Print This Page
The (Love) Life of Ashton Kutcher

Ashton Kutcher was born on February 7, 1978 at 12:30 PM in Cedar Rapids, Iowa (42 N 00 /91 W 38) (source: AstroDatabank, Rodden Rating A).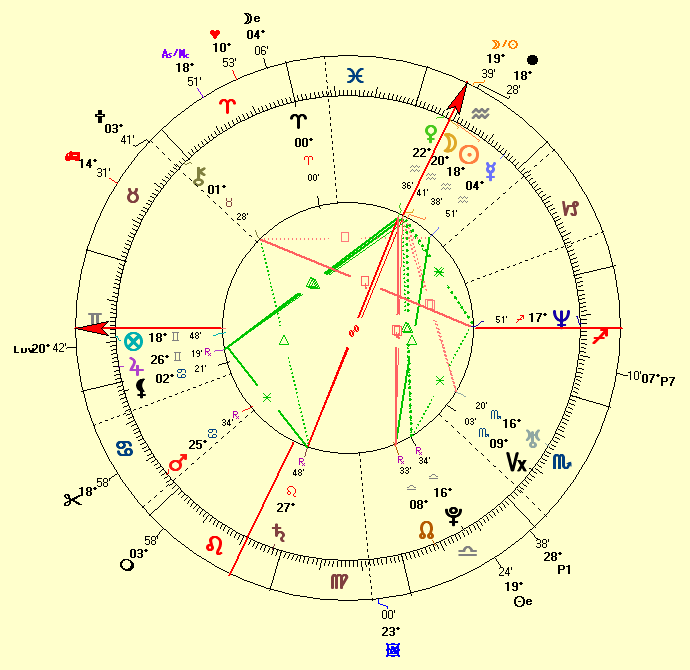 Planetary positions:
Sun: 18° Aquarius | Moon: 20° Aquarius | Mercury: 4° Aquarius | Venus: 22° Aquarius | Mars: 25° Cancer | Jupiter: 26° Gemini | Saturn: 27° Leo | Uranus: 16° Scorpio | Neptune: 17° Sagittarius | Pluto: 16° Libra | North Node: 8° Libra | Ascendant: 16° Gemini | MC: 20° Aquarius
Standouts in the horoscope of Ashton Kutcher

As usual we will look at the standouts in his natal chart.
After all, that's what will bring us to the essence and disposition of the person.
Not to overwhelm you with information, we will only assess the horoscope of Ashton Kutcher by looking at the factors that only have some meaning for his love life.
There is quite a lot to tell about his natal chart though, but we'll still try to keep it to the essence.
In his horoscope we can find the following standouts:
the Ascendant-Descendant axis is in the signs Gemini-Sagittarius
there is a powerful stellium (Mercury, the Sun, the Moon, Venus and the MC) in Aquarius
there are the following exact midpoints (45° dial/list; orb 0°00'-0°01'): UR = ME/SA and SO = UR/MC = MO/UR

the Ascendant, Uranus and Pluto are all at the same numerical degree (16°), on condition that his time of birth is accurate
the earth element is void in his natal chart
he has 2 very powerful connections in his natal chart:
1. Moon/Saturn and 2. Mars/Jupiter
Gemini on the Ascendant in a natal chart predisposes the native towards multiple marriages and/or divorces.
In more than 70% of the cases, this is true.
Gemini is the most unstable sign of all (it's a mutable air sign and thus as volatile as the wind).
Moreover, both Gemini and Sagittarius are double signs which means that this axis needs variety, changes -- in many ways.
When we find the signs of variety and changes on the 1st and 7th house cusps (Ascendant-Descendant axis, which represents the axis of relationships), we are in for a lot of variety and changes here.
Needless to say that Ashton Kutcher may meet many people (and lovers) and is likely to marriage and/or divorce different times.
The fact that Neptune is also posited in the 7th house of relationships and the ruler of the 7th house (Jupiter) is posited in his 1st house in the sign of its detriment, emphasizes misjudgments and disappointments in this area. 
The powerful Aquarius stellium is highly important because most of his personal points/bodies (the Sun, the Moon, Mercury, Venus and the MC) are posited in it.
This stellium overpowers his natal chart in many ways.
Aquarius is a very independent sign and because it's a fixed air sign, it holds to its own convictions - and so does he (confirmed by the Mars/Jupiter connection which we'll discuss in a second).
His New Moon in Aquarius, culminating around the MC, shows some 'father' and breakaway issues.
Also, Aquarius represents the other's child (or others' children) (be it adopted children, stepchildren, children of another person/partner) and is much more 'interested' in them than in his own children.
Usually, Aquarius gets on better with children of 'the other', than with the own children (which is represented by the zodiac sign Leo).
Aquarius detests emotional bonds and is quite detached so that bonding in a formal way is not easy (and most often not recommended).
The very exact midpoints in a horoscope are part of the astrological DNA picture of a nativity and they work out the whole life.
The UR = ME/SA midpoint denotes: to go one's own way, disagreements, sudden tension and nervousness, upsetting events and not always being tolerant.
The exact SO = UR/MC = MO/UR reinforces this: nervous tension, to take sudden decisions, to be excited, the need to do everything one's own way, to be ambitious.
In matters of love, this points to some issues to overcome, if possible.
On condition that Ashton Kutcher's time of birth is accurate, the Ascendant, Uranus and Pluto are all at the same numerical degree (16°).
This configurations points to living, working or residing in a hectic environment.
He tends to be too forceful at times.
Also, he may change the place often and live in a technical environment.
The lack of planets and bodies in the earth element, shows he's not always that practical and needs some grounding.
A lack of earth often reflects a struggle to keep the feet on the ground.
He may be swayed easily by others (confirmed by Neptune in Sagittarius in the 7th house).
In Ashton Kutcher's natal chart, we find 2 important and predominant connections:
Moon/Saturn because Saturn is posited in the 4th house (mundane ruled by the Moon), the ruler of the 4th house (mundane ruled by the Moon) is conjunct the 10th house (mundane ruled by Saturn) and the Moon is conjunct the MC (mundane ruled by Saturn).

Moon/Saturn connections reflect a fear to bond but a huge urge to feel emotionally safe and secure.

In male charts, this often suggests bonding with a partner in a detached way and/or a partner with a huge age difference (confirmed by Venus in the 10th house).

This connection is a very loyal and 'serious' one.


Mars/Jupiter because Jupiter is in the 1st house (mundane ruled by Mars), Mars is semi-sextile Jupiter and the ruler of the 1st house (mundane ruled by Mars) is in the 9th house (mundane ruled by Jupiter).

Mars/Jupiter connections emply fighting for one's beliefs.

Often there is the need to impose one's beliefs and/or convictions.

We know he's very much into the Kabbalah and this beautifully shows how this connection works.
---
---
His 2005 marriage horoscope

Reportedly, Ashton Kutcher married Demi Moore on September 24, 2005 during a Kabbalah Wedding Ceremony that started around 10:00 PM (22:00) in Beverly Hills, CA/USA.
It's still unsure if such a Kabbalah Ceremony equals a formal and legal marriage though.
The chart of this Kabbalah Wedding is found below.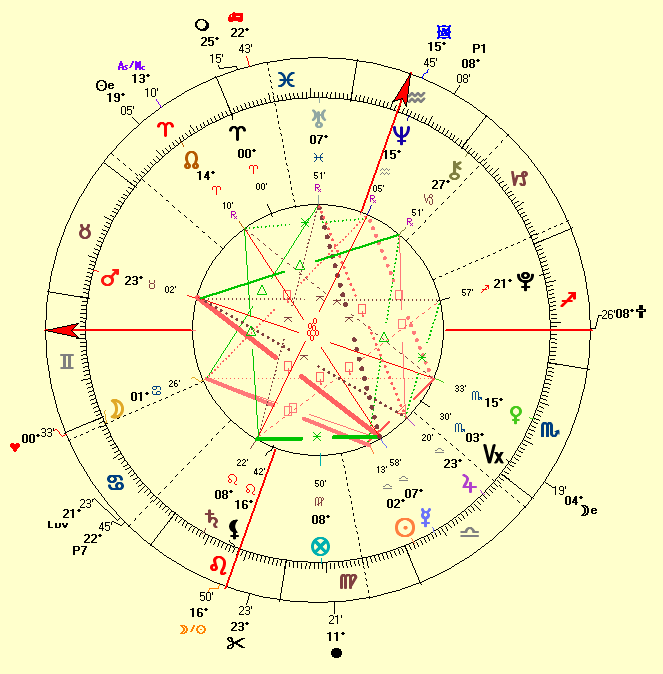 Planetary positions:
Sun: 2° Libra | Moon: 1° Cancer | Mercury: 7° Libra | Venus: 15° Scorpio | Mars: 23° Taurus | Jupiter: 23° Libra | Saturn: 8° Leo | Uranus: 7° Pisces | Neptune: 15° Aquarius | Pluto: 21° Sagittarius | North Node: 14° Aries | Ascendant: 8° Gemini | MC: 18° Aquarius
We will only look at what stands out on that day.
there is an exact Venus-Neptune square at 15° in fixed signs

there are no very exact midpoints (45° dial/list; orb 0°00'-0°01') active, but the following midpoint pictures are very tight: VE=JU/UR=JU/AS; ME=MA=SA/UR; AS=UR=ME/SA; JU=MO/NE and SA=MA/JU
In this marriage horoscope an exact Venus-Neptune square suggests disappointment and deceptions.
This is the more so because the square is waning; which implies there is no balance in giving and taking.
Also, this aspect denotes the partners, or at least one of the partners, are too easily swayed (seduced).
The relationship is too much lived in the imagination and not in the daily realities.
It's a tragic aspect because it finds place at 'critical degrees' (which all 15° in a sign are).
Neptune and Venus are both on a degree of reversal(s), which already shows this relationship/wedding might not last.
No wonder Demi Moore filed for divorce on December 21, 2012.
The tight midpoints in the 45° dial/list add to this.
Let's take a look:
VE=JU/UR=JU/AS: to be in love, to be happy, the love bond
ME=MA=SA/UR: to resist, tension and stress, to get rid of tension, disputes
AS=UR=ME/SA: to go one's own way, to separate, not being able to tolerate each other, sudden decisions made, disagreements and disputes, to leave or depart
JU=MO/NE: wishful thinking, to share artistic interests
SA=MA/JU: not being able to unfold, to separate, divorce, to hesistate to take a decision
Clearly, these midpoints do not favor a harmonious and healthy love bond and eventually a separation/divorce was written in the stars...
Reportedly, he's now engaged to Mila Kunis with a daughter born on October 1, 2014 (some sources state September 30, 2014 though).
---
Astrodamus predictions for Ashton Kutcher

When we, at Cosmic Technologies (CosmiTec), analyze horoscopes, we often consult Astrodamus 1.0™ to know what the future may hold for the native...
The "problem" with the annual analyses generated by Astrodamus is that this software makes use of the primary directions which are stunningly accurate ON CONDITION that the time of birth is EXACT.
A difference of 4 minutes brings worthless predictions!
We did not rectify his natal chart though but we suspect his time of birth is approximate and not accurate to the minute.
Below is a text block that refers to his 2005 Kabbalah Wedding but the time frame is just a little off (most of the text blocks are in his case, reinforcing our suspicion that his time of birth is a little off).

His divorce was predicted by Astrodamus as follows:


and


But what has Astrodamus to tell us about his future (love) life?
Click here to download his Astrodamus predictions till 2020.
---
Updates
Update December 1, 2016: Mila Kunis and Ashton Kutcher welcome baby n° 2, born on November 30, 2016.
It's a baby boy!

Update June 16, 2016: Reportedly, Mila Kunis and Ashton Kutcher are expecting their second child together a rep for the actress confirmed to E! News.
Update July 6, 2015: Reportedly, Ashton Kutcher married Mila Kunis on July 4, 2015 after three years of being a couple.
The couple exchanged vows in a quiet ceremony at The Secret Garden at Parrish Ranch in Oak Glen, California.
They began dating in 2012, and reportedly got engaged in February 2014 and welcomed daughter Wyatt Isabelle in October 2014.
---