Print This Page
We, at Cosmic Technologies (CosmiTec),...
On this page, you can find some information about this web site and about Cosmic Technologies (CosmiTec): how it all started, who we are and much more...
About Cosmic Technologies (CosmiTec)
Cosmic Technologies (CosmiTec) is a small Belgium-based business founded by Luc De Jaeger.
Since childhood, he's passionately involved in astrology.
He is the driving force behind the corporation.
He's the main webmaster, astrologer, advisor and astrological researcher (and a lot more)...
Cosmic Technologies (CosmiTec) is about unbelievable powerful energies that come from whatever powerful sources of electromagnetism, radiation, or mighty things we can't see, smell, touch, feel...
Things that are not part of our own reality but that, nevertheless, exist and influence or affect mankind and that have an impact on all human beings.
It is about all these supreme forms of energy and cosmological or celestial 'influences'.
Cosmic Technologies wants to show you that there is more between Heaven and Earth....
Cosmic Technologies wants to broaden your outlook and consciousness.
It's also about tomorrow's unique and groundbreaking technologies that are far more powerful than human technologies.
Astrology is one of these supreme technologies. But every 'energy' and technology that brings or promotes health, wellness, happiness is also part of it...
That's why it's also about Oenetic Sciences and Cymatics, about vibrations, frequencies, light & color and so much more....

Welcome to Cosmic Technologies (CosmiTec).

Luc De Jaeger
---
About me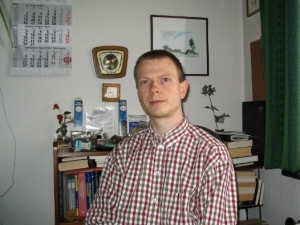 My passion for astrology started in childhood - there was no specific reason for it - it just happened to be my passion...
Not that I 'believed' in astrology, I just was magnetically attracted to it...

Of course, during the years my understanding of astrology evolved and my insight grew as I, too, grew older - ...and wiser ;-)

The more techniques I learned from schools all over the world (in Dutch, German, French or English), the more my (initial) reserve and skepticism regarding astrology shrunk away.

With the benefit of hindsight I can tell that there is a lot of rubbish and nonsense in astrology, but the real essence of astrology is about cycles, life cycles, planetary pictures, geometrical patterns and archetypes (compare this with the DNA-structure and snowflakes: they all look the same, but their crystalline structure is different AND geometrical).
Astrology is about reading a clock with more than 10 hands (the planets and points) -- and every hand has its own speed, cycle and meaning.
No doubt human brains (and linear thinking) cannot cope with such complex patterns, making astrology difficult to understand, difficult 'to prove'... and far A LOT easier to 'disapprove'...
Due to some life experiences I also became more interested in other 'occult' topics (palmistry, fortune-telling by cards, graphology, etc.).
When I was about 20 years old, I went to an occult and fortune-telling (trade) fair.
It was an exposition of fortune-tellers by cards, clairvoyants etc. who were giving (paid and free) consultations the whole day long.
I went to this trade just for fun and out of curiosity.
I couldn't resist consulting a fortune-teller by cards.
As there were many of them, I chose a lady who did free consultations because I didn't want to spend money on something that seemed quackery to me.
However, this consultation became a most shocking experience to me.
That lady gave an overview of my whole life, starting from childhood till "death."
She only mentioned real life events without psycho blah blah. It was not a "psychological" reading as I expected at all.

She predicted childhood events that really happened and that nobody in the whole world could ever know...
I was stuck by her reading. She went on and on. It was weird.
As she could so accurately predict childhood events, I started thinking that her future forecasts might be true too, but I still was in doubt.
However, from that moment on I started to visit other fortune-tellers by cards to know more about these predictions and their opinions/predictions.
I think I went to some 40-50 other people and wrote down their predictions very carefully.
It were 40-50 totally different readings, most of them "psychological" ones and often most contradictory too.
I had the impression that it was quackery indeed.
However, looking back at the predictions and forecasts, I can tell that the reading of that lady, my very first consultation and encounter with fortune-telling by cards, is still the only reading that was extremely accurate and hit the nail in a mind-boggling way.
As of today, almost everything she predicted came out. The other readings were mere quackery, indeed...
It was a once-in-a-lifetime experience.
From this very own experience I know that, aside from astrology, fortune-telling by cards CAN be a MOST accurate tool in forecasting real life events in the future, ON CONDITION that you consult an experienced fortune-teller.
They are really very hard to find though!!
I'm still not sure how one can separate chaff from wheat and perhaps only one's own experience can tell.
Click here, if you want to know something more about fortune-telling by Tarot cards.
Anyway, now you will understand why I'm not going to say anymore that fortune-telling by cards -- as such -- is quackery!
That's why I think the other occult "sciences" can be a valid aid if practiced by reputable and highly experienced people.
---
For the time being, I have a most busy fulltime job as a nominated Jurist at a municipal administration in a big European city and it's a pity I cannot spend more time to astrology and astrological research.
But, my life is not all about astrology...
I have some other passions too: photography, graphology, homeopathy and Information Technology (ICT) to sum up just these...
In fact, when the personal computer became a real 'personal' computer in the 80's I started programming my own programs on a Sinclair ZX81 and, some years later, on a Sinclair ZX Spectrum.
My programs were published in the English Magazine "ZX Computing":
"Three dimensional cubes" in the Dec. 82/Jan. 83 Issue
"Crash", kind of a simulation motoring game, in the Dec. 84/Jan. 85 Issue
Another passion is drawing cartoons.
When I upgraded from a Sinclair Spectrum to an Atari 260ST (Atari was re-inventing the MAC PC with a mouse then), I started to design my cartoons by computer (the Atari was in fact a cheaper version of the well-known Mac's).
My cartoons became more publically noticed when I still was a law student.
Due to my studies, my passion for astrology, interest in ICT AND an enormous lack of time, I could not continue with this.
Indeed, combining law studies, astrology, programming and drawing cartoons was too much of a good thing...
I dropped the cartoons and programming for a while.
But instead my astrological knowledge grew.
---

I have been a correspondent for the 'Internationales Horoskope Lexikon', a bilingual English-German scientific publication of the Institute for Astroenergetic Studies (IAS), Ireland, and have written an article for The Mountain Astrologer (TMA) that was published in the free Urania supplement of the June/July 1990 Issue under the name 'Classifying aspects'.
I'm really proud to have witnessed how this magazine grew and expanded.
Between brackets: The Mountain Astrologer (TMA) is now worldwide one of the best astrological magazines you can find!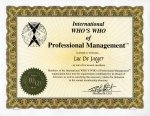 I was also selected for Inclusion in the 2000 edition of the International WHO'S WHO of Professional Management™ (Ericson Publishing, Inc./Gibralter Publishing Inc.).
However, I only received the 1998 edition, not the 2000 edition... So, I can't tell you if I am included in that edition.
Moreover, when a member of the Board of Advisors tried to reach me ("that nominated Jurist"), at work and by phone, just during a moment of my absence (because I attended a meeting), a colleague - who did not speak English in a fluent way - told this member that she didn't know of any nominated Jurist...

Needless to say that this kind of misunderstanding caused that I never heard anything again from that Board of Advisors.

---
Due to a lot of life-events, that I prefer not to disclose in public, I felt obliged to take another important decision: starting my own business accompanied by the building of a web site.
But how??
I searched the internet and tried to inform me as much as possible.
What about social security and taxes, how to build a web site....? How much would it all cost? What about web design software? I had no knowledge of HTML...
Then, I came upon Solo Build It! (SBI!) delivering an all-in-one package of web-building without any previous knowledge of HTML, web-hosting, submitting to the search engines, giving a lot of statistical information, etc...
I found their price rather high for my budget and looked further.
But soon, I discovered that SBI! was in fact EXTREMELY inexpensive, compared with other solutions and packages. It really was what I was looking for....
Click here to compare Site Build It! with its competitors.
I wanted to give it a try and bought Site Build It! (SBI!) .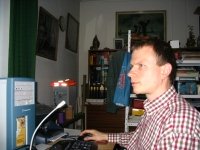 Because of my busy full-time job I had to study the user guide and try out all the tools (SBI! Manager and Brainstorm module) in my spare time.
I was all astonishment when I encovered the SBI! Manager, this huge database, the way it worked and in which I could find the right keywords for building a successful web site (so the advertisements told me...).
When I bought SBI! I could not imagine how this all looked like.
But in reality, it's most amazing. Ingenious.
This all had one 'disadvantage', though: I had to RE-think EVERYTHING: all that I previously had in my mind about building my web site, I had to let it go. I had the wrong concept in my head, the wrong ideas.
I needed more than a month brainstorming and letting new ideas pop-up, changing everything and starting all over!
If I didn't have Solo Build It! (SBI!) I'm not sure if I was on the Net now....

Because of my full-time job I could not get this web site ready in a short time.
It was going to be a long (and winding?) road.
But doesn't the manual (Make Your Content PREsell (MYCPS!)) say that patience is a virtue and that you WILL need A LOT of patience to get results.......
Moreover, it became clear to me too that, if one is not going for one's passion, one will not succeed.
Never.
Building a web site on your own still is a huge work, especially if you have not much spare time! Take your time to plan everything carefully!
SBI! contains some templates that you can use, but I wanted something more individualized, so I preferred to design my own layout, logo etc... with my own drawing software.
All the tools are in SBI! to get you going and keep you going.
I admire their integrity, knowledge of the way the internet works (there are things you can't imagine), programming skills and much more.
Still very very satisfied with their services and uptime (99.9%).
I'm forever grateful for having them because without them I was not who and where I am now.
---
Updates
On average, our site is updated once a week.
We ONLY list our most important and MAJOR updates and milestones here below.
All (small or big) updates will be featured in detail in our monthly Love Letter (Newsletter).
So, if you want to know about the web additions, new articles and more, you better subscribe!
So, what's new?
We are de-Googling our website (deleting al Google Ads, Google Search etc.) as much as possible and keep the Google translate till we find another free tool (March-June 2021)
We no longer post messages on Facebook and have cancelled all links on our website to mainstream social media like Twitter etc. Instead we now post on alternative social media like MeWe, gab, Diaspora* and Minds (and possibly other similar alternatives that are decentralized, respect free speech and are hopefully open sourced) and have linked to these on our website (January 2021)
We released our first paperback book "Elemental Astrology." It's now available on Amazon. (September 2019)
We successfully converted our whole web site to the more secure https connection (May 2019)
We made our web site GDPR compliant (May 2018) and are in the process of converting the http web address to the more secure https web address (2018-2019)
From 2019 we will no longer write the annual forecasts (we will continue with the monthly forecasts though) to get more time to focus on writing books, astrological research and developing/expanding this web site and newsletter further (December 2017)
The tooltips (text balloons) are now also introduced in the free yearly love forecasts for the 12 zodiac signs (January 2016)
We added tooltips (text balloons) in our monthly (love) forecasts with additional astrological information for the more advanced visitors. When you hover over a paragraph, a text balloon will appear BELOW the paragraph with astrological information in it. While hovering, the text color of the paragraph turns blue so you know where the astrological information belongs to (August 2015)

We are slowly updating the HTML 4.0 code to the more dynamic  HTML5 (August 2014)
All the new articles on our website are now listed under the left navigation bar (under the 'recent articles' heading) (July 2014).
We add 'breadcrumbs' (the horizontal navigation below the header) to make navigating our web site even easier (November 2013).
Our web site has full Text-To-Speech (TTS) capabilities. We are the first astrology website to have this feature. The feature is only available on our newly designed CSS-driven pages though (September 2012)
Revamping our web site (new look & feel) (August 2012)
We redesigned our top image, changed our right navigation bars and the footer of our site. All our horoscope wheels are presented in a new style. The left navigation bars will change completely too.(August 2011)
We start to revamp our web site and hope to have our whole web site overhauled before the end of 2011. It will be CSS driven and have a totally new look and feel (November, 2010)
We're now on Facebook (February, 2009)
We start to include Web 2.0 features into our web site, making our pages more interactive (October, 2007)
we added a new site map that replaces the smaller site maps that could be found on most of our pages. In the footer you can find a link to the (bigger) site map. Also, you can find a button in the left navigation bar linking to our big site map (January 29, 2007)
we add new navigation bars to the right of the pages to make navigation more convenient. These navigation bars will replace the site maps that could be found at the bottom of the pages. We are preparing a big site map instead. Merry Christmas! (December 23, 2006)
we launched our own astrology online store in association with Amazon (October 13, 2006)
we launched the 2007 love forecasts of the 12 zodiac signs and revamped the look somewhat (August 30, 2006)
for the moment you can no longer purchase the Astrodamus astrological software, instead we offer some exqusite Astrodamus Reports. Happy New Year! (January 2, 2006)
we launch our first e-book "Forecasting with the Moon Phases" in English and Dutch (December 2, 2005)
we go RSS!! From now on you can see an orange button in the left upper side of the navigation bar, click on it or read what RSS is about on the link below that button (October 1, 2005)
we launch two Calendars that you can order: a Baby Gender Prediction Calendar and a Fertility Calendar and launch the free yearly love horoscopes for the 12 zodiac signs (September 18, 2005)
we expanded and updated our marriage horoscopes page. Actually, we added three new pages, one about divorce horoscopes, another about romance horoscopes and another about "astrology marriage indications". As some other "marriage pages" are in progress we decided to bring these pages together under the heading "Marriage Horoscopes" and we added another button on our Navigation Bar(April 23, 2005)
we launch our monthly love horoscopes (December 31, 2004)
HAPPY NEW YEAR!!!
our expanded yearly love horoscopes are launched (December 20, 2004)
HAPPY HOLIDAYS!!!
we launch two new pages: one about Vedic sex horoscopes and another about free love horoscopes (December 5, 2004)
we updated our home page, unique gifts pages and some of our seduction pages. We also offer a new "When to find love Calendar" (on our astrology charts page) (November 27, 2004)
we are inundated by baby gender prediction requests and try to manage it. The response is overwhelming (bear with us while we are calculating the charts and try to prepare some other topics and pages). Everyone who has sent a request will get an answer. So, for this time no major updates, just minor updates on our Claudia Schiffer page and on different other pages (November 13, 2004)
we launch two new pages/topics: one about Baby Gender Prediction and another about your Wedding Setting Date by getting our Marriage Graphs (November 6, 2004)
minor updates of our astrology seduction page, Astrodamus page and unique gifts page. The expanded and very extensive 2005 Yearly Love Horoscopes for all 12 signs are IMMINENT (October 31, 2004)
we deliver Personalized Dating Calendars (available on our dating and astrology compatibility charts page) to find the most favorable days for a date (or to invite your sweetheart for an exquisite dinner, or...) (October 17, 2004)
we added another celebrity horoscope: Billy Joel who just got married and we als expanded our Astrodamus page (October 9, 2004)
we expanded the celebrity horoscope of Kevin Costner and added his marriage horoscope (October 3, 2004)
we updated the celebrity horoscope of Britney Spears (again) and added another celebrity horoscope as well (Kevin Costner); we also updated our astrology charts page, added some reviews of astrological profiles from iVillage and updated some other pages too(September 26, 2004)
this web site has a face: we updated our 'About Us' page with some pictures. Due to Britney Spears' wedding, we updated our celebrity horoscopes page as well (September 20, 2004)
we updated our Astrodamus page and expanded all our unique gift pages again and updated some other pages as well (September 18, 2004)
we updated and expanded all our unique gifts pages (September 12, 2004)
we added a sidebar with some Forecast graphs in the celebrity horoscope of Britney Spears (September 5, 2004)
we added some information on whitelisting our business in case you don't get any e-mail, order or reply from us (read our FAQ's) and we also added an astrological review of a new online dating service, Soulmatch (September 4, 2004)
you can order different reports from our web site (August 23, 2004)
At last: you can subscribe to our Newsletter that will be published later this year (August 15, 2004)
minor updates on different pages. We checked all our pages on Syntax Errors and corrected them. Launching of our Newsletter is IMMINENT. Stay tuned. (August 2, 2004)
we updated and expanded our Moon signs page (July 19, 2004)
we updated/expanded our 12 seduction and our 12 gifts pages(July 10, 2004)
update of our page about Claudia Schiffer (June 29, 2004)
we updated our page about Britney Spears (due to our succesful prediction), as well as our different pages about the Astrodamus software program (June 26, 2004)
we added another celebrity horoscope. This time it's Jennifer Lopez(June 19, 2004)
2nd update of all our 12 gifts pages and update of different links on our site (June 15, 2004)
we updated some of our gifts pages and printed an important message to some mail service users (especially Hotmail-users) on our Free Lunar Cycle Fertility Order Page (June 8, 2004)
we updated our compatibility horoscopes page (May 31, 2004)
minor updates on different pages, updates of all or 12 seduction pages (May 26, 2004)
PART II of our celebrity horoscope: Claudia Schiffer (May 16, 2004)
minor updates on different pages. We added another celebrity horoscope: Claudia Schiffer PART I (May 10, 2004)
we added a review of another astrological profile, this time from California Astrology Association and we added some real life cases/examples, analyzed by Astrodamus -- see our Astrodamus page (May 1, 2004)
minor updates of our 12 Astroseduction pages and some individual sex horoscopes pages (April 25, 2004)
we added a review of another astrological profile, this time from Horoscope.com and we expanded our free daily love horoscopes page (April 14, 2004)
NEW TOPIC: Daily Love Horoscopes. HAPPY EASTER (April 10, 2004)
major update of our astrological reports review-page. We added 4 new reviews of astrological profiles from 123Predictions, Horoscope-Matching, AskCommander and Astrology Chart Zone (April 3, 2004)
we updated our Astrodamus page. Minor updates of our sex horoscopes pages (March 28, 2004)
we updated all our '12 seduction' pages, added a review of an astrological profile from AstrologyHouse and expanded our marriage horoscopes page (March 13, 2004)
we updated our lunar cycle fertility page, added a new review of an astrological profile from AstrologySource and updated our dating page (March 7, 2004)
minor updates of all our 12 individual sex horoscopes pages, our FAQ page, sign compatibility page, this CosmiTec page and astrology seduction page (March 1, 2004)
we added our FAQ page (February 21, 2004)
we updated and expanded our sex horoscopes page (February 19, 2004)
we added a review of a full-length compatibility report from VedicPrediction (February 14, 2004)
we added a review of a free and a full-length compatibility report from theFutureMinders (February 7, 2004)
NEW TOPIC about astrology and seduction (February 1, 2004)
---