Print This Page
The (Love) Life of Demi Moore

Demi Moore was born on November 11, 1962 at 14:16 (02:16 PM) in Roswell, New Mexico (33 N 24 /104 W 31) (source: AstroDatabank, Rodden Rating A).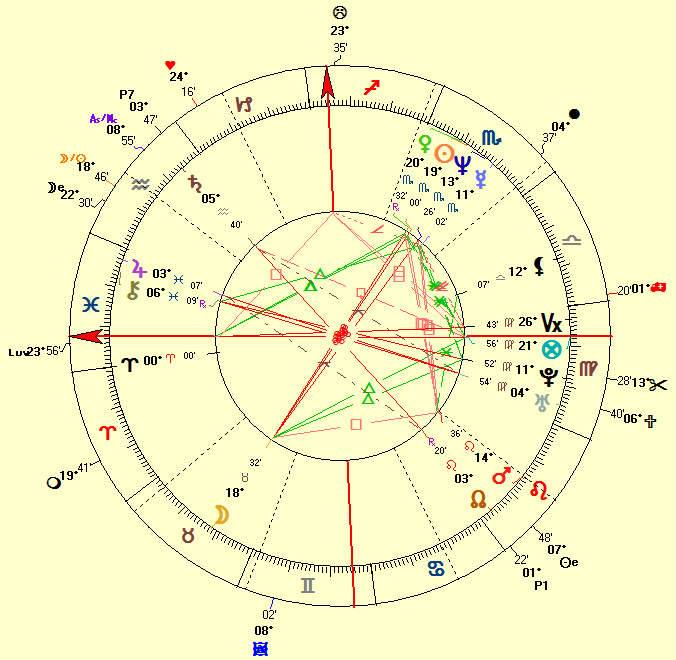 Planetary positions:
Sun: 19° Scorpio | Moon: 18° Taurus | Mercury: 11° Scorpio | Venus: 20° Scorpio | Mars: 14° Leo | Jupiter: 3° Pisces | Saturn: 5° Aquarius | Uranus: 4° Virgo | Neptune: 13° Scorpio | Pluto: 11° Virgo | North Node: 3° Leo | Ascendant: 22° Pisces | MC: 25° Sagittarius
Standouts in the horoscope of Demi Moore

As usual we will look at the standouts in her natal chart.
After all, that's what will bring us to the essence and disposition of the person.
Not to overwhelm you with information, we will only assess the horoscope of Demi Moore by looking at the factors that only have some meaning for her love life.
There is quite a lot to tell about her natal chart though, but we'll still try to keep it to the essence.
In her horoscope we can find the following standouts:
there is a Full Moon in fixed signs and fixed houses
there is a powerful stellium (Mercury, the Sun, Venus and Neptune) in Scorpio and in the 8th house
there are the following exact midpoints (45° dial/list): SO = UR/KN; SO = MO = JU/KN = JU/SA; JU = ME/MC = NE/AS = MA/AS; UR = MA/MC; MC = MA/SA; ME = MO/KN = SO/KN; MA = MO/ME; NE = VE/SA

the air element is almost missing and she has no planets in cardinal signs

most planets and bodies are posited in fixed water signs
Aries and Libra are intercepted in the houses 1-7, the relationship axis
she has a tense rectangle pattern between the Lunar North Node, Jupiter, Saturn and Uranus
the rulers of the 6th and 8th house are in mutual reception
Mercury and Pluto are in mutual reception
she has numerous very powerful connections in her natal chart: Sun/Mars; Mercury/Pluto, Venus/Pluto, Jupiter/Neptune, Saturn/Uranus and Neptune/Pluto
The Full Moon in fixed signs and fixed houses predisposes the native towards highly stubborn traits.
Also, physical needs need to be met at all cost, otherwise she will suffer.
Hence, Demi Moore has strong and instinctive desires for wealth and comfort.
A Full Moon in Taurus is not thrown off course easily and loves nature.
She's quite inflexible and very set in her ways and dislikes changes.
The powerful Scorpio stellium in the 8th house is highly important because most of her personal points/bodies (the Sun, Mercury, Venus and Neptune) are posited in it.
This stellium reinforces Scorpio traits and points to reversals, intensity, issues about jealousy and primal urges that have to be met at all cost.
Because Scorpio and the 8th house represent shared resources (money and possessions of others), there can be issues with inheritances, loans, taxes, legacies and the like.
Scorpio is a very sensual (and even sexual) zodiac sign and it does not surprise that Demi Moore was a pin-up girl once.
The very exact midpoints in a horoscope are part of the astrological DNA picture of a nativity and they work out the whole life.
SO = UR/KN: the excitement, the unfolding drama, the physical clashes and fights

SO = MO = JU/KN = JU/SA: to travel, to gather experiences, the changes of residence, to be annoyed easily, to be moody, the huge ups and downs, the good friendships

JU = ME/MC = NE/AS = MA/AS: to be happy and/or optimistic, to have lots of ideas, betrayal, to be an organizer

UR = MA/MC: the sudden change of course, the physical clashes, the sudden setbacks, to explode

MC = MA/SA: to be sad, to be tenacious, to be determined

ME = MO/KN = SO/KN: the female friendships, to judge others, the talks and/or communication, connected with the press

MA = MO/ME: to have a sharp tongue, to be assertive, to take decisions

NE = VE/SA: love's sorrow, the cold shower in matters of love and romance, separation, the cooling off of relationships
The missing air element and the lack of planets in cardinal signs indicate trouble in detaching oneself from situations and being truly objective.

Even though she's not the cerebral type, she can be highly creative.
Compromising may not be easy.
Most of the planets and bodies in fixed water signs reinforce her strong and powerful Scorpio traits reflected by the Scorpio and 8th house stellium.

Power issues are a given.
She is very demanding and wants everything her way in an all-or-nothing way.
The interception of Aries-Libra in the 1st-7th house axis of relationships denotes an early identity complex, a lack of confidence and/or self-esteem that changes when growing older.

Finding a meaningful relationship is not easy and often results in setbacks.
Her relationships tend to lack balance in giving and taking, adjusting the "me" to the "you" (and vice versa). 
The rectangle pattern between the Lunar North Node, Jupiter, Saturn and Uranus suggests fanaticism and the longing for increased awareness and raising consciousness.
This can be a very assertive pattern (though not always in sharp a way but rather in forceful a way) that often leads to quarrels and disputes.
The mutual reception between the rulers of the 6th and 8th houses point to issues regarding hygiene and neatness.
This mutual reception represents a microscope actually and she's very analytical and demanding.
She has very high standards and wants everything to be perfect.
The mutual reception between Mercury and Pluto signifies annoyance, grumbling, a very focused, but often obsessed mind.
In Demi Moore's natal chart, we find many important and predominant connections:

Sun/Mars because Mars is in Leo (ruled by the Sun) and the Sun is square and contra-parallel Mars.

This connection indicates over-doing; often resulting in accidents.

This connection points to some workaholic traits, and using work as a means to escape emotional issues.

Demi Moore may be able to hide her own emotional issues very well though.


Mercury/Pluto because Mercury is sextile Pluto, Pluto is in the 6th house (mundane ruled by Mercury), Pluto is in Virgo (ruled by Mercury), the ruler of the 8th house (mundane ruled by Pluto) is in the 6th house (mundane ruled by Mercury) and vice versa, the ruler of the 3rd house (mundane ruled by Mercury) is in the 8th house (mundane ruled by Pluto), Mercury is in the 8th house (mundane ruled by Pluto) and Mercury is in Scorpio (ruled by Pluto).

This is a highly powerful one in her natal chart and suggests a lot of thinking and pondering.

There can be some obsessions and a guilty feeling because of being in the spotlight and/or center of attention.


Venus/Pluto because the rulers of the 2nd house and the ruler of the 7th house (both mundane ruled by Venus) are in the 8th house (mundane ruled by Pluto), Venus is in the 8th house (mundane ruled by Pluto) and is in Scorpio (ruled by Pluto).

She fears losses, does not want to be alone and needs someone to feel really secure.

She may be clingy in that way.


Jupiter/Neptune because Jupiter is in the 12th house (mundane ruled by Neptune), the ruler of the 9th house (mundane ruled by Jupiter) is in the 12th house (mundane ruled by Neptune) and Jupiter is in Pisces (ruled by Neptune)

This connection is above all a very spiritual one with a huge interest in metaphysics.

Also, she might feel bored easily and needs lots of stimuli to get her going.

She may have some difficulties living in the hard reality and longs for a more romantic and idealistic world.

This connection may indicate addictions (alcoholism) that become more severe when under pressure.

People with a predominant Jupiter/Neptune connection can be very humanitarian spirits.


Saturn/Uranus because Saturn is inconjunct Uranus, Saturn is in the 11th house (mundane ruled by Uranus) and Saturn is in Aquarius (ruled by Uranus)

In numerous instances, this connection reflects divorced or separated parents and/or parents who differ profoundly from each other in many ways.

She had to learn to build her own values and norms the hard way.


Neptune/Pluto because Neptune sextiles Pluto, Neptune is in the 8th house (mundane ruled by Pluto) and Neptune is in Scorpio (ruled by Pluto)

This is a very chaotic connection that suggests fear to be bound, to be pinned down.

In some instances, this affinity is related to unreliable behavior, not keeping promises, not being able to have a clear point of view.

This connection reflects not always being able to cope with or stand boundaries.
---
---
The marriages of Demi Moore

Reportedly, Demi Moore married different times:
she married rock musician Freddy Moore on February 8, 1980.

She met him at the Troubadour nightclub in Los Angeles when she was 16 years old and a pin-up girl.

The couple divorced on August 7, 1985.


she married Bruce Willis on November 21, 1987 at the Golden Nugget Hotel in Las Vegas.

She gave birth to her first daughter Rumer Willis on August 16, 1988.

She gave birth to her second daughter Scout Willis on July 20, 1991.

She gave birth to her third child, another daughter, Tallulah Willis on February 3, 1994. 

The couple separated on June 24, 1998 and divorced on October 18, 2000.


she married Ashton Kutcher

 on September 24, 2005 during a Kabbalah Wedding Ceremony that started around 10:00 PM (22:00) in Beverly Hills, CA/USA.



Around November 17, 2011, she announced that she had filed for divorce from Kutcher.

Other sources state that on December 21, 2012 third husband Ashton Kutcher filed for divorce though.

The split follows reports that 22-year-old Sara Leal alleged a one-night stand with Kutcher on his sixth wedding anniversary with Moore in September.

The couple weathered a previous cheating scandal one year earlier, when Brittney Jones, 22, claimed she had sex with Kutcher in July 2010.

At that time, they took a trip to Israel for what was described as a spiritual journey.

The divorce was finalized on November 26-27, 2013.

For a chart comparison between Ashton Kutcher and Demi Moore, click here.
Furthermore, Demi Moore has been romantically linked with Leonardo DiCaprio, Colin Farrell, Timothy Hutton, Pedro Aguinaga, Martin Henderson, Anthony Kiedis, Tobey Maguire, Harry Morton, Peter Morton, Will Hanigan, Guy Oseary, Alex Rodríguez, Thomas Jane, Owen Wilson, Dweezil Zappa, Orlando Bloom and Vito Schnabel (among others).
---
Astrodamus predictions for Demi Moore

When we, at Cosmic Technologies (CosmiTec), analyze horoscopes, we often consult Astrodamus 1.0™ to know what the future may hold for the native...
The "problem" with the annual analyses generated by Astrodamus is that this software makes use of the primary directions which are stunningly accurate ON CONDITION that the time of birth is EXACT.
A difference of 4 minutes brings worthless predictions!
We did not rectify her natal chart though.
What has Astrodamus to tell us about her future (love) life?
Click here to download her Astrodamus predictions till 2030.
---