Print This Page
The (Love) Life of Cameron Diaz

Cameron Diaz was born on August 30, 1972 at 02:53 (02:53 am) in San Diego CA/USA (32 N 43 /117 W 09) (source: AstroDatabank, Rodden Rating AA).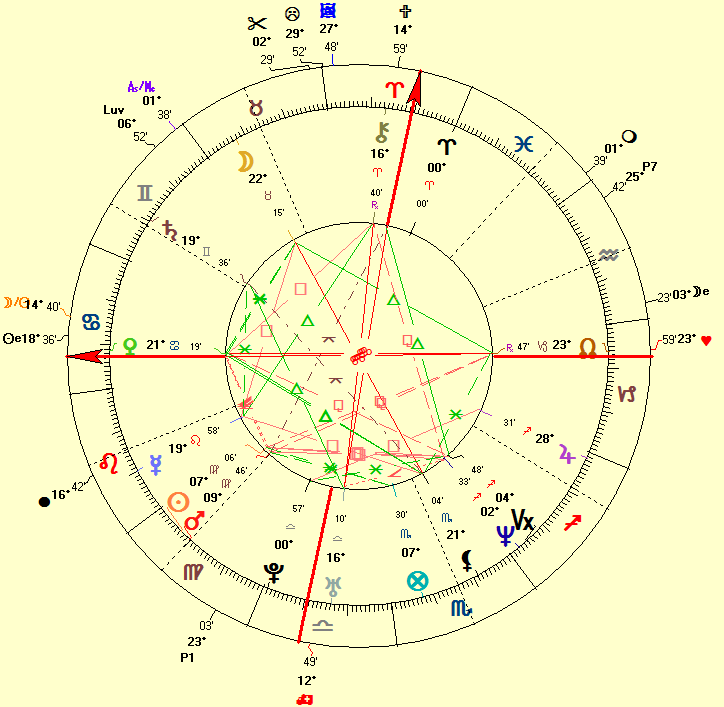 Planetary positions:
Sun: 7° Virgo | Moon: 22° Taurus | Mercury: 19° Leo | Venus: 21° Cancer | Mars: 9° Virgo | Jupiter: 28° Sagittarius | Saturn: 19° Gemini | Uranus: 16° Libra | Neptune: 2° Sagittarius | Pluto: 0° Libra | North Node: 23° Capricorn | Ascendant: 22° Cancer | MC: 10° Aries
Standouts in the horoscope of Cameron Diaz

As usual we will look at the standouts in her natal chart.
After all, that's what will bring us to the essence and disposition of the person.
Not to overwhelm you with information, we will only assess the horoscope of Cameron Diaz by looking at the factors that only have some meaning for her love life.
There is quite a lot to tell about her natal chart though, but we'll still try to keep it to the essence.
In her horoscope we can find the following standouts:
Most planets and bodies are posited in the Eastern hemisphere of the horoscope wheel and especially in the 1st Quadrant (houses 1, 2 and 3)
Pluto is at 0° Libra, a so-called "critical degree"
Venus is conjunct the Ascendant and opposite the mean Lunar North Node
The most exact midpoints in the 45° dial/list are: MC = JU/AS; UR = MO/MA = VE/MC = AS/MC; MO = JU/UR; VE = MA/NE; SO = VE/AS; AS = VE/KN
There are the following predominant connections in her natal chart: Venus/Neptune, Sun/Mercury and Mercury/Venus
The Moon and Venus are in mutual reception (in each other's sign) and so are the Sun and Mercury
the Moon is void-of-course
An emphasis on the Eastern hemisphere and a predominant 1st Quadrant implies that she is very self-reliant and self-sufficient.
She is steered by her own interests and urges.
Pluto at a "critical degree" (0° Libra) indicates an extreme longing for harmony.
She often feels unloved or rejected but is very popular and hardly makes (open) enemies.
The Venus/Ascendant conjunction, opposite the mean Lunar North Node points to being hurt very easily.
This is the more so because Venus is in vacillating and sensitive Cancer.
She might be pleasure loving, self-indulgent, disarming and unpretentious.
The downside can be a vulnerable nature and being too familiar at times.
People who have Venus angular tend to especially follow an 8 year (and multiples) cyclic life pattern.
Hence, the age of 16 is often a breakthrough year, especially in matters of relationships but also in matters of career or other interests.
At 22° Cancer, the Ascendant suggests she loves an upbeat tempo and  needs things quickly (speed comes before quality).
The Lunar North Node conjunct the 7th house cusp (Descendant) indicates she will sacrifice herself for her partner and make excessive compromises for the partner.
The most exact midpoints in the 45° dial/list denote the following:

MC = JU/AS: the successful position, the successful or profitable relationships, to get support
UR = MO/MA = VE/MC = AS/MC: the rebel, to be contrary, the sudden changes of course, the explosive temper, to push through impulsively, the sudden affectionate urges
MO = JU/UR: the good intuition, the windfalls, the optimism and lucky breaks, the sound spirit
VE = MA/NE: fertility issues, the infection(s)
SO = VE/AS: the beautiful body, the sense of beauty and harmony, the model
AS = VE/KN: the affectionate bonds or connections

In her natal chart, we find the following powerful and predominant connections:

Venus/Neptune because Venus is sesquiquadrate and contra-parallel Neptune, the ruler of the 12th house (mundane ruled by Neptune) is in the 2nd house (mundane ruled by Venus) and the ruler of the 7th house (mundane ruled by Venus) is in the 12th house (mundane ruled by Neptune).

Most Venus/Neptune connections point to a very creative nature.

She may revel in love and may be in love with love as well.

In some instances, we have seen this connection to be related to lacking some boundaries in relating to others.


Sun/Mercury because the Sun is in Virgo (ruled by Mercury), the Sun is in the 3rd house (mundane ruled by Mercury), Mercury is in Leo (ruled by the Sun) and the ruler of the 5th house (mundane ruled by the Sun) is in the 3rd house (mundane ruled by Mercury).

This analogy is a talkative one and she tries to be accommodating.


Mercury/Venus because the ruler of the 2nd house (mundane ruled by Venus) and the ruler of the 3rd house (mundane ruled by Mercury) are in mutual reception, Mercury is in the 2nd house 'mundane ruled by Venus) and Mercury is semi-sextile Venus.

This is the connection of the beautiful voice and someone who loves beauty and harmony.

She can be diplomatic and may avoid conflicts.

This connection "verbalizes" love en points to having enjoyable talks.
The Moon and Venus and the Sun and Mercury are in mutual reception suggesting she's looking for an ideal and agreeable relationship.
The Moon at 22° Taurus (the sign of Venus) is exactly sextile Venus and the Ascendant Cancer (the sign of the Moon).
In other words, the Moon and Venus are not only in mutual reception but they are also in an exact aspect and additionally, Venus is well disposed by her dispositor.
This is the configuration of a sympathetic personality who loves the dialogue and enjoys sharing ideas and feelings in a cozy environment.
Knowledge and information gathering is important as well as communicating in a harmonious way.
The void-of-course Moon is not an unusual phenomenon and many people are born with it.
It denotes someone who is seemingly devoid of emotions or submerged in emotional drudgery. 
It means Cameron Diaz is able to hide her emotions.
Because the Moon also reflects the (early) family life, it suggests she does not really fit into a family (life).
On an inner level she may often feel lonely and even empty.
---
The love life of Cameron Diaz
Cameron Diaz reportedly dated Carlos de la Torre (in the early 90s), Matt Dillon (1995), Jared Leto (1999-2003), Justin Timberlake (2002-2006), John Mayer (August 2007), Bradley Cooper (September 2007-2008), P. Diddy (2008), Paul Sculfor (2008-2009), Edward Norton (January 2009), Alex Rodriguez (2010-2011).
Cameron Diaz began dating musician, singer, songwriter, and producer Benji Madden in May 2014.
The two were unofficially engaged before Christmas Day in 2014.
Cameron Diaz married Benji Madden at her home in Beverly Hills, California, in a Jewish-inspired ceremony on 5 January 2015, after a 17-day engagement, having been introduced seven months earlier by her close friend and now sister-in-law, Nicole Richie.
The marriage came as a reversal for Diaz.
The couple welcomed their daughter Raddix Madden at 1:58 pm on 30 December 2019 in Los Angeles via surrogate pregnancy.
---
The intimate astrocard analysis with Benji Madden
When assessing a couple for compatibility, it's also always interesting to look at the intimate astrocard report for compatibility.
Click here to read the intimate astrocard report for Cameron Diaz and Benji Madden (born March 11, 1979, Waldorf, Maryland, United States).
---
Astrodamus predictions for Cameron Diaz

When we, at Cosmic Technologies (CosmiTec), analyze horoscopes, we often consult Astrodamus 1.0™ to know what the future may hold for the native...
The "problem" with the annual analyses generated by Astrodamus is that this software makes use of the primary directions which are stunningly accurate ON CONDITION that the time of birth is EXACT.
A difference of 4 minutes brings worthless predictions!
We did not rectify her natal chart though but we suspect her time of birth is quite accurate.
What has Astrodamus to tell us about her future (love) life?
Click here to download her Astrodamus predictions till 2050.
---
---