Print This Page
The (Love) Life of Warren Beatty

Warren Beatty was born on March 30, 1937 at 17:30 (05:30 PM) in Richmond, Virginia (37 N 33 /77 W 28) (source: AstroDatabank, Rodden Rating AA).
Planetary positions:
Sun: 9° Aries | Moon: 23° Scorpio | Mercury: 15° Aries | Venus: 5° Taurus | Mars: 4° Sagittarius | Jupiter: 24° Capricorn | Saturn: 27° Pisces | Uranus: 7° Taurus | Neptune: 16° Virgo | Pluto: 26° Cancer | North Node: 18° Sagittarius | Ascendant: 28° Virgo | MC: 28° Gemini
Standouts in the horoscope of Warren Beatty

As usual we will look at the standouts in his natal chart.
After all, that's what will bring us to the essence and disposition of the person.
Not to overwhelm you with information, we will only assess the horoscope of Warren Beatty by looking at the factors that only have some meaning for his love life.
There is quite a lot to tell about his natal chart though, but we'll still try to keep it to the essence.
In his horoscope we can find the following standouts:
the ruler of his Ascendant (Mercury rules his Virgo Ascendant) is at 15° Aries (a 'critical' degree) in the 7th house
Saturn is conjunct the Descendant (cusp of the 7th house) and trine Pluto
Venus is conjunct Uranus in Taurus in the 8th house and they are inconjunct Mars in Sagittarius
Venus is retrograde
the most exact midpoint in the 45° dial/list are: SO/NE = AS/MC and PL = MA/KN
there are the following predominant connections in his natal chart: Moon/Jupiter, Mercury/Neptune and the Moon/Pluto
there is a Grand Trine in water signs between the Moon, Saturn and Pluto
The ruler of the Ascendant at a critical degree fully marks the person because the ruler of the 1st house represents the primal urges and the most instinctive drives.
At 15° Aries, the ruler of the Ascendant is about passion, to be in 'fire and flame' easily, following the principle 'easy come easy go', living strong physical desires and urges... (especially when young).
Later in life, this critical degree may indicate more stress in relationships though.
No wonder Warren Beatty was a notorious womanizer and it does not come as a surprise he had love affairs with, among others, Madonna, Diane Keaton, Liv Ullmann, Julie Christie, Michelle Phillips, Joan Collins, Vanessa Redgrave, Leslie Caron, Carly Simon, Elle MacPherson, Goldie Hawn, Isabelle Adjani, Brigitte Bardot, Candice Bergen, Cher, Kate Jackson, Vivien Leigh, Diana Ross, Susan Strasberg, Barbra Streisand, Britt Ekland, Connie Chung, Jessica, Savitch, Diane Sawyer and numerous other women...
Because the ruler of the 1st house is posited in the 7th house of encounters and relationships, this only adds to the extreme urge to bump into someone else and blend with another, 'the other.'
Mercury, representing youth, in the 7th house in Aries often points to younger lovers as well.
Hence, it does not come as a surprise there is a 21-22 year age difference with his wife!
Saturn conjunct the Descendant is highly important because Saturn conjunctions work out like a hook and super-glue.
Saturn conjunct a house cusp really is that important because it just hooks to the significations of that house.
The 7th house represents encounters, relationships, meetings and the 'significant other' as well.
In this position, Saturn, clings, hooks to the 'significant other.'
Additionally, Saturn trines Pluto which adds emotional attachment and stamina.
The Saturn-Pluto trine adds lasting power and reflects highly stable situations in matters of relationships.
No wonder, this configuration denotes a long lasting bond.
The Venus-Uranus conjunction in Taurus in the 8th house reflects short-lived encounters, love at first sight and sexual experiments.
The sexual part is especially indicated by the involvement of Mars (inconjunct Venus) in fiery and outgoing Sagittarius.
In a male horoscope, retrograde Venus delays love and marriages.
No wonder Warren Beatty married for the first time when he was 56 already!
The most exact midpoints in the 45° dial/list denote the following:
SO/NE = AS/MC: the actor, to have charisma, to be seduced easily


PL = MA/KN: getting the work done 
In Warren Beatty's natal chart, we find 3 important and predominant connections:

Moon/Jupiter because Jupiter is posited in the 4th house (mundane ruled by the Moon), the Moon is sextile and parallel Jupiter.

No doubt, Moon/Jupiter connections bring popularity and (some) renown.

The downside is vanity though and an extreme urge for attention and to be in the spotlight.

Warren Beatty may expect the best and the biggest things to happen.


Mercury/Neptune because Neptune is in Virgo (ruled by Mercury), Mercury is parallel and inconjunct Neptune and the ruler of the 6th house (mundane ruled by Mercury) is in the 12th house (mundane ruled by Neptune).

This is a very intuitive connection, not a rational one.

He 'feels' the other and adapts accordingly.


Moon/Pluto because Pluto is in Cancer (ruled by the Moon), the Moon is in Scorpio (ruled by Pluto) and the Moon trines Pluto.

Traumatic childhood experiences are pushed away.

Stress may result in stereotypical behavior (always doing or saying the same things).

This can be a very competitive connection also.
The Grand Trine in water signs between the Moon, Saturn and Pluto indicates a very intuitive, caring and sensitive nature who feels the atmosphere instantly and reacts accordingly.
Warren Beatty is a very private person with a soft side.
Also, a Grand Trine is told to denote too self-sufficient, self-fulfilled, dignified and vain (self-conscious) characteristics as well.
---
The love life of Warren Beatty
Warren Beatty had a long reputation for being a womanizer and the list of celebrities he dated and slept with is (very) long: Julie Christie, Diane Keaton, Goldie Hawn, Isabelle Adjani (a passionate bond that lasted about a year, from 1986 to 1987), Brigitte Bardot, Carol Alt, Elle MacPherson, Stephanie Seymour, Jane Fonda, Joan Collins (they were engaged, she got pregnant but she ended up getting an abortion and the couple fell apart),  Cher (when she was 16 and he was 25 and already involved with Natalie Wood), Natalie Wood (in a two-year on-again, off-again relationship), Vivien Leigh, Leslie Caron (in a two year lust at first sight relationship), Mamie Van Doren, Julie Christie, Faye Dunaway, Carly Simon, Joni Mitchell, Britt Ekland (a six-week fling), Judy Carne, Michelle Phillips, Candice Bergen, Kate Jackson, Melanie Griffith, Raquel Welch, Iman, Mary Tyler Moore, Diana Ross, Connie Chung, Diane Sawyer, Justine Bateman, Madonna (a 15-month relationship), Barbra Streisand, among others (rumors go he even dated Lillian Hellman, Jacqueline Kennedy and Princess Margaret. 
"Warren goes through women on an industrial scale," Natalie Wood once remarked, "although he does it with great charm."
Warren Beatty has always insisted it was love at first sight for him with Annette Bening.
They got married in secret on March 3, 1992 and have been together ever since and have four children together.
---
His 1992 marriage horoscope

Reportedly, Warren Beatty married Annette Bening on March 3, 1992 in Los Angeles, CA/USA.
The marriage was only made public around March 12, 1992 because both partners wanted a very private ceremony.
They met in November 1990 in San Pietro, Beverly Hills and it was love at first sight.
Warren is Annette Bening's second spouse (she married for the 1st time on May 26, 1984).
Warren Beatty and Annette Bening have 4 children: Kathlyn Elizabeth, since the age of 14 Stephen (born January 8, 1992), Benjamin (born August 23, 1994), Isabel (born January 11, 1997) and Ella (born April 8, 2000).
The chart of his Wedding below is calculated with the Sun at the Ascendant since the time of the wedding is unknown.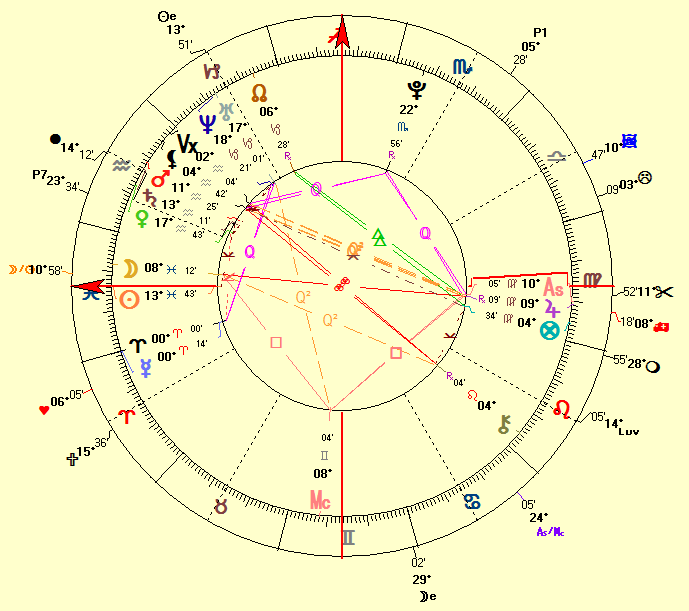 Planetary positions:
Sun: 13° Pisces | Moon: in Pisces | Mercury: 0° Aries | Venus: 17° Aquarius | Mars: 11° Aquarius | Jupiter: 9° Virgo | Saturn: 13° Aquarius | Uranus: 17° Capricorn | Neptune: 18° Capricorn | Pluto: 22° Scorpio | North Node: 6° Capricorn
We only look at what stands out on that day:
Mercury is at 0° Aries (the Vernal Point), a 'critical' degree

There are no very exact midpoints active (45° dial/list; orb 0°00'-0°01'), but the following midpoint pictures are very tight:JU = ME/VE and SA = JU/UR
In this marriage horoscope Mercury at 0° Aries (the Vernal point) suggests public news, news in general.
The midpoints in the 45° dial/list point to:

a fortunate love bond, successful love thoughts, enjoyable meetings and gatherings (JU = ME/VE)





sudden upsets, temperance over excess (SA = JU/UR)
---
Astrodamus predictions for Warren Beatty

When we, at Cosmic Technologies (CosmiTec), analyze horoscopes, we often consult Astrodamus 1.0™ to know what the future may hold for the native...
The "problem" with the annual analyses generated by Astrodamus is that this software makes use of the primary directions which are stunningly accurate ON CONDITION that the time of birth is EXACT.
A difference of 4 minutes brings worthless predictions!
We did not rectify his natal chart though but we suspect his time of birth is quite accurate.
But what has Astrodamus to tell us about his future (love) life?
Click here to download his Astrodamus predictions till 2050.
---
---