Print This Page
The (Love) Life of Priyanka Chopra

Priyanka Chopra was born on July 18, 1982 at 01:30 (01:30 am) in Jamshedpur, India (22 N 48 / 86 E 11) (source: AstroDatabank, Rodden Rating A).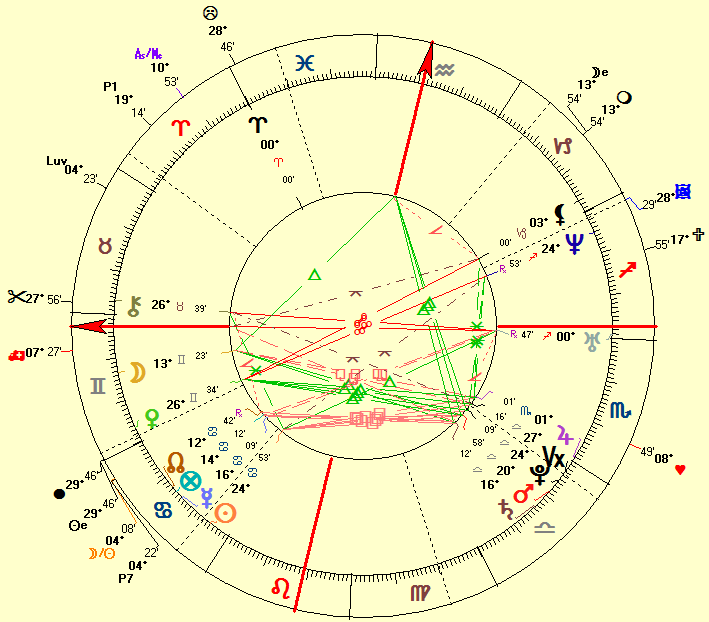 Planetary positions:
Sun: 24° Cancer | Moon: 13° Gemini | Mercury: 16° Cancer | Venus: 26° Gemini | Mars: 20° Libra | Jupiter: 1° Scorpio | Saturn: 16° Libra | Uranus: 0° Sagittarius | Neptune: 24° Sagittarius | Pluto: 24° Libra | North Node: 12° Cancer | Ascendant: 2° Gemini | MC: 19° Aquarius
Standouts in the horoscope of Priyanka Chopra

As usual we will look at the standouts in her natal chart.
After all, that's what will bring us to the essence and disposition of the person.
Not to overwhelm you with information, we will only assess the horoscope of Priyanka Chopra by looking at the factors that have some meaning for her love life.
In her horoscope we can find the following standouts:

Most planets and bodies are posited in the Northern hemisphere of the horoscope wheel (houses 1, 2, 3, 4, 5 and 6)
Retrograde Uranus is at 0° Sagittarius, a so-called "critical degree", opposite her Ascendant

The most exact midpoints in the 45° dial/list are: MC = SO/MO = SO/Pallas; MO = KN/Ceres; ME = MC/MO; JU = MC/KN; SA = MC/MO; KN = AS/Vesta   

There are the following predominant connections in her natal chart: Moon/Mercury and Mercury/Venus
The Moon and Mercury are in mutual reception (in each other's sign)
Most aspects are aligned horizontally

She has no planets/bodies in the earth element while having lots of planets in the air element

The Sun, Neptune and Pluto are all at the same numerical degree in a sign (24°)

the most exact aspects in her natal chart are: the Sun inconjunct Neptune, Mercury square Saturn and the Sun square Pluto
An emphasis on the Northern hemisphere implies that she prefers a private life.
Her personal and family life are most important to her and because the most personal bodies (the Sun, Moon, Mercury and Venus) are posited in the 1st Quadrant of the horoscope wheel (houses 1, 2 and 3), she's self-reliant, self-sufficient and self-made. 
Retrograde Uranus at a "critical degree" (0° Sagittarius) and opposite her Ascendant suggests a VERY independent personality.
She's extremely freedom-loving and cannot stand to be pinned down.
0° Sagittarius is a degree of popularity but she may "fly too high" as well (Uranus rules her 10th house of career, status, esteem and reputation).
The Uranus-Ascendant opposition suggests the (suddenly) breaking off of bonds or encounters and meetings to keep her independence.
The most exact midpoints in the 45° dial/list denote the following:

MC = SO/MO = SO/Pallas: the marriage, the ego fulfillment, to be successful, to be humble, the peace of mind
MO = KN/Ceres: to be sympathetic, to be generous, the influence on groups
ME = MC/MO: to think or ponder about one's position in life, the mental agreements
JU = MC/KN: to enjoy social gatherings, the social life and entertainment, the togetherness
SA = MC/MO: the depressing longing, sobering experiences affect the emotional life, the separation from (a) beloved one(s), to be serious
KN = AS/Vesta: to set aside the family for obligations and/or principles, to be surrounded by obligations

In her natal chart, we find the following powerful and predominant connections:

Moon/Mercury because Mercury is in Cancer (ruled by the Moon), the Moon is in Gemini (ruled by Mercury), the Moon is at Mercury's antiscion point and semi-sextile Mercury, the ruler of the 4th house (mundane ruled by the Moon) is in the 3rd house (mundane ruled by Mercury)

This analogy is related to a youthful appearance and a rather naive or seemingly "immature" nature.

Writing or talking is absolutely necessary to keep up a healthy emotional life.



Mercury/Venus because the ruler of the 7th house (mundane ruled by Venus) is in the 6th house (mundane ruled by Mercury), Venus is in Gemini (ruled by Mercury), the ruler of the 6th house (mundane ruled by Mercury) is in the 2nd house (mundane ruled by Venus), Mercury is parallel Venus and Mercury is in in the 2nd house (mundane ruled by Venus).

This connection indicates the love for beauty and harmony.

Diplomacy is used to avoid conflicts and escape from a harsh world.

In many instances, this connection is found in natal charts of people who have a beautiful voice or are very vocal in a gentle way.

They often have no connection with the family or home life (in other words, the are able to travel the world around like a gypsy without missing their roots or home).

The Moon and Mercury are in mutual reception (because the Moon is in Gemini, the sign ruled by Mercury, and Mercury is in Cancer, the sign ruled by the Moon).
It's told that this mutual reception is very self-analyzing and thus less dependent on external comments or feedback.
This mutual reception is more detached than the Moon-Mercury aspects and it's likely she cannot be rushed and will analyze everything first.
Priyanka Chopra is reserved and has a self-critical attitude; making she has a very philosophical view of herself and life.

Most planets and bodies are horizontally aligned which suggests a very sociable nature.
She's way more interested in friendships, family gatherings and socializing than in her career, ambitions and achievements.
The lack of planets in the earth element and most planets situated in the air element suggest that she's quite detached, like an observer, and loves communicating.
She's predominantly a cerebral person, not always practical.
Words say much more than tangible goods.
The Sun, Neptune and Pluto at the same numerical degree in a sign (24°) point to, among others, a tragic disappointment, an extremely sensitive nature or physique, the slowly dissolving health conditions, the highly spiritual nature, the disappearing man or husband, a missing male person in her life (father, husband, brother,...), the allergic reactions to medication or drugs, to go missing, to get under the influence of (an)other(s), to be very impressionable.
The most exact aspects in her chart imply the following:
Sun inconjunct Neptune: this aspect refers to a highly sensitive and imaginative nature.

There are issues sticking to decisions though.

Also, there are escapist tendencies and the difficulty to see things realistically.

Ambivalence and self-doubt result in difficulties and seeking reassurance from others.

Priyanka may attract those who show a false interest in her.


Mercury Square Saturn: this aspect is distrustful and tends to close up in itself.

She's conscientious but may experience quite some restless mental energy (and sleepless nights).

She may be too strict and/or rigid in her (way of) thinking and worry too much.

Sun square Pluto: this is a very tenacious aspect but it may bring some fierce power struggles also.

Jealousy is something that may be part of her life.

In relationships, Priyanka may be demanding.

All Sun-Pluto squares reflect a very determined person.
---
The love life of Priyanka Chopra
Priyanka has never dated men but only been in relationships with them.
Reportedly, she told that dating as a concept does not exist in India.
She has ended up getting into relationships with the people she met and she usually met people on movie sets.
She made friends but romantically, relationships have always been with people who she met at work.

Reportedly, Priyanka Chopra has been romantically connected to, among others, Aseem Merchant, Akshay Kumar, Harman Baweja, Shahid Kapoor, Shah Rukh Khan, Tom Hiddleston.
On September 8, 2016 American singer-actor Nick Jonas sent her a Twitter message in saying that "from a few mutual friends they should meet."
They have been texting since and met at the 2017 Vanity Fair Oscars afterparty.
In May 2017 they met again on different occasions.
The pair was dating in 2018 and since mid 2018 they were serious.
At the Met Gala 2018, Priyanka Chopra was seen making an entrance with American singing sensation, Nick Jonas.

Priyanka Chopra married Nick Jonas (born 16 September 1992) on December 1, 2018 in Umaid Bhawan Palace, Jodhpur (India) in traditional Hindu and Christian ceremonies
They both became engaged July 18, 2018 in a Punjabi Roka ceremony in Mumbai.
Nick Jonas popped the question at midnight after Chopra's birthday in 2018 while in Crete.
Reportedly, Nick has been obsessed with Priyanka since they started dating.
The couple tied the knot during a Western weddingat the Umaid Bhawan Palace, a Taj hotel in Jodhpur, Rajasthan in Chopra's home country of India on Saturday December 1, 2018.
---
The intimate astrocard analysis with Nick Jonas
When assessing a couple for compatibility, it's also always interesting to look at the intimate astrocard report for compatibility.
Click here to read the intimate astrocard report for Priyanka Chopra and Nick Jonas.
---
Astrodamus predictions for Priyanka Chopra
When we, at Cosmic Technologies (CosmiTec), analyze horoscopes, we often consult Astrodamus 1.0™ to know what the future may hold for the native...
The "problem" with the annual analyses generated by Astrodamus is that this software makes use of the primary directions which are stunningly accurate ON CONDITION that the time of birth is EXACT.
A difference of 4 minutes brings worthless predictions!
We did not rectify her natal chart though and even though it's always suspicious when someone is born exactly at the hour, we assume her time of birth is still accurate.
What has Astrodamus to tell us about her future (love) life?
Click here to download her Astrodamus predictions till 2050.
---
Updates
Update April 22, 2022: Priyanka Chopra and her husband, singer Nick Jonas, welcomed a baby girl via surrogacy in January 2022.
They announced the child's birth on January 22 in a post on Instagram.
Reportedly, TMZ now has obtained the child's birth certificate that states her name as Malti Marie Chopra Jonas.
According to the same report, their child was born just after 8 pm in a San Diego hospital on January 15, 2022.
---
---