Print This Page
The (Love) Life of Christina Aguilera

Christina Aguilera was born on December 18, 1980 at 10:46 (10:46 am) in Staten Island, NY/USA (40 N 35 / 74 W 09) (source: AstroDatabank, Rodden Rating A).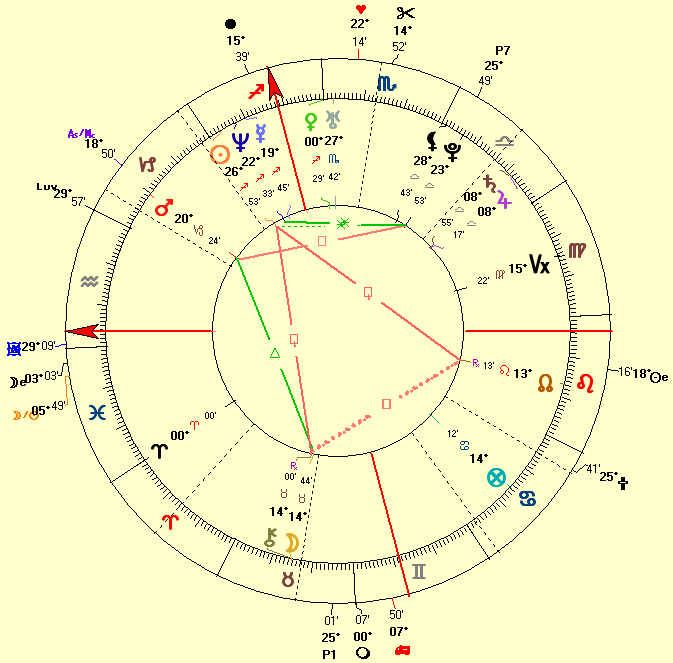 Planetary positions:
Sun: 26° Sagittarius | Moon: 14° Taurus | Mercury: 19° Sagittarius | Venus: 0° Sagittarius | Mars: 20° Capricorn | Jupiter: 8° Libra | Saturn: 8° Libra | Uranus: 27° Scorpio | Neptune: 22° Sagittarius | Pluto: 23° Libra | North Node: 13° Leo | Ascendant: 26° Aquarius | MC: 11° Sagittarius
Standouts in the horoscope of Christina Aguilera

As usual we will look at the standouts in her natal chart.
After all, that's what will bring us to the essence and disposition of the person.
Not to overwhelm you with information, we will only assess the horoscope of Christina Aguilera by looking at the factors that have some meaning for her love life.
In her horoscope we can find the following standouts:

Most planets and bodies are posited in the Southern hemisphere of the horoscope wheel (houses 7, 8, 9, 10, 11 and 12)
Venus is at 0° Sagittarius and the Moon is at 14° Taurus, both degrees are so-called "critical degrees"

The most exact midpoints in the 45° dial/list are: MC = MO/JU = VE/NE; ME = VE/SA; JU = NE/PL    

There are the following predominant connections in her natal chart: Jupiter/Pluto, Uranus/Pluto, Venus/Uranus and Venus/Jupiter
Her chart has a Sagittarius stellium (more than 3 planets/bodies in that zodiac sign)

the most exact aspects in her natal chart are: a Jupiter-Saturn conjunction, Uranus square her Ascendant and the Sun sextile her Ascendant

The rulers of the 8th and 9th house are in mutual reception
An emphasis on the Southern hemisphere implies that she wants to be out in the public, wants to be seen publicly.
She wants to express herself more openly in the visible world.
Venus at a "critical degree" (0° Sagittarius) suggests popularity and success.
She is sociable and has fame (0° Sagittarius is one of the degrees that represents fame, wealth, worldwide recognition).
The Moon too at a critical degree (14° Taurus) is indicative of self-containment and being able to collect oneself.
The physical body and comfort that brings a secure feeling all are very important in life.
The most exact midpoints in the 45° dial/list denote the following:

MC = MO/JU = VE/NE: to be popular, to be sociable, the happy woman, the romantic ideals, the love dreams, to have appeal, the artistic creativity
ME = VE/SA: to be realistic in matters of love and romance, the love separation
JU = NE/PL: the love for life and humanity, the high-minded spirit, euphoria, to act or play
In her natal chart, we find the following powerful and predominant connections:

Jupiter/Pluto because Jupiter is in the 8th house (mundane ruled by Pluto), the ruler of the 8th house (mundane ruled by Pluto) is in the 9th house (mundane ruled by Jupiter) and the ruler of the 9th house (mundane ruled by Jupiter) is in the 8th house (mundane ruled by Pluto)

This analogy is related to being convinced the own beliefs are "right" and reflect "the truth."

This connection suggests popularity and the need (inner urge) for recognition.


Uranus/Pluto because the ruler of the 11th house (mundane ruled by Uranus) is in the 8th house (mundane ruled by Pluto), Uranus is in Scorpio (ruled by Pluto), Uranus is semi-sextile Pluto

This connection indicates some obsessions and a very freedom-loving spirit.


Venus/Uranus because Venus is conjunct and parallel Uranus, the ruler of the 2nd house (mundane ruled by Venus) is in the 11th house (mundane ruled by Uranus)

This connection reinforced individualism and a freedom-loving personality.

Relationships are best lived without emotional attachments and entanglements.
 
Venus/Jupiter because Venus is in the 9th house (mundane ruled by Jupiter-, Venus is in Sagittarius (ruled by Jupiter), Jupiter is in Libra (ruled by Venus)

This analogy confirms and even reinforces she is very popular and even "protected."

She wants to look up to a partner but may also face triangular relationships.

She expects success and luck in life as if it's a normal thing.
The Sagittarius stellium (the MC, the Sun, Mercury, Venus and Neptune are in Sagittarius) points to someone who has high hopes, big ideals and expectations.
Sagittarius has lots of irons in the fire and looks at the bigger picture instead of the minutest details.
People with a Sagittarius stellium need lots of free space and wide open places and that's why they love to travel and long distances.
The downside is exaggeration as they cannot stand and easily cope with limits, restrictions and boundaries.
They dislike criticism which they perceive as a restriction or limitation.
The most exact aspects in her chart imply the following:
Jupiter conjunct Saturn: this aspect refers to living in cycles of about 20 years.

She has a philosophical intelligence meaning that she is smart, has a profound insight in and view of everything.


Uranus square the Ascendant: this aspect rather disrupts her relationships (in the widest sense).

It does not come as a surprise she has been divorced because this aspect easily breaks up relationships (in the widest sense), the more so because Uranus rules her Ascendant (rising sign Aquarius).

Whenever the ruler of a house squares its own house it disrupts, challenges that house.

There can be some erratic traits of her that may harm her relationships one way or the other.
The Sun sextile the Ascendant: this is indicative of someone who shines physically, who loves to perform to others and wants to be seen or known for her physicality.
The rulers of the 8th and 9th house in mutual reception connect the meaning of both houses.
Her world view and beliefs are very much based upon principles, morals, and even certain dogmas.

She might have fixed convictions and an imagination that works like a laser beam.
Also her convictions develop by travel, meeting other cultures, religions, higher knowledge.
She may have a very well developed life philosophy that she also wants to share and even propagate or lecture.
She just loves to share her imagination and beliefs and her charisma is able to persuade others.
---
The love life of Christina Aguilera
Christina Aguilera dated her back-up dancer Jorge Santos between 2000-2002, but Jorge was quoted saying that he was far from ready for a serious relationship, with allegedly Aguilera was interested in.
Between 2003-2005 she dated music producer Jordan Bratman, born June 4, 1977 in South Bronx, New York/USA.
They married November 19, 2005 in Napa Valley, California.

Christina Aguilera and her husband Jordan Bratman welcomed their first child, a boy named Max Liron Bratman on January 12, 2008 at 10:05 pm in Los Angeles.
They separated in September 2010 and she filed for divorce from Bratman in October 2010, requesting joint legal and physical custody of their son Max.
Their divorce was finalized on April 15, 2011.
In late 2010, Christina Aguilera started dating Matthew Rutler, whom she met during the set of Burlesque.
Matthew Rutler was born on April 14, 1985 in Wyckoff, New Jersey/USA.
In 2014 she was engaged to Rutler.
She gave birth to a daughter, Summer Rain Rutler, on 16 August 2014 in Los Angeles, CA "shortly after 8 am."
The father is her fiancé Matt Rutler.
---
The intimate astrocard analysis with Matthew Rutler
When assessing a couple for compatibility, it's also always interesting to look at the intimate astrocard report for compatibility.
Click here to read the intimate astrocard report for Christina Aguilera and Matthew Rutler.
---
Astrodamus predictions for Christina Aguilera
When we, at Cosmic Technologies (CosmiTec), analyze horoscopes, we often consult Astrodamus 1.0™ to know what the future may hold for the native...
The "problem" with the annual analyses generated by Astrodamus is that this software makes use of the primary directions which are stunningly accurate ON CONDITION that the time of birth is EXACT.
A difference of 4 minutes brings worthless predictions!
We did not rectify her natal chart though and even though it's always suspicious when someone is born exactly at the hour, we assume her time of birth is still accurate.
What has Astrodamus to tell us about her future (love) life?
Click here to download her Astrodamus predictions till 2050.
---
---