Print This Page
The (Love) Life of Donald Trump
Donald Trump was born on June 14, 1946 at 10:54 AM EDT in Jamaica, Queens -- New York/USA (40 N 41 /73 W 48) (source: AstroDatabank, Rodden Rating AA).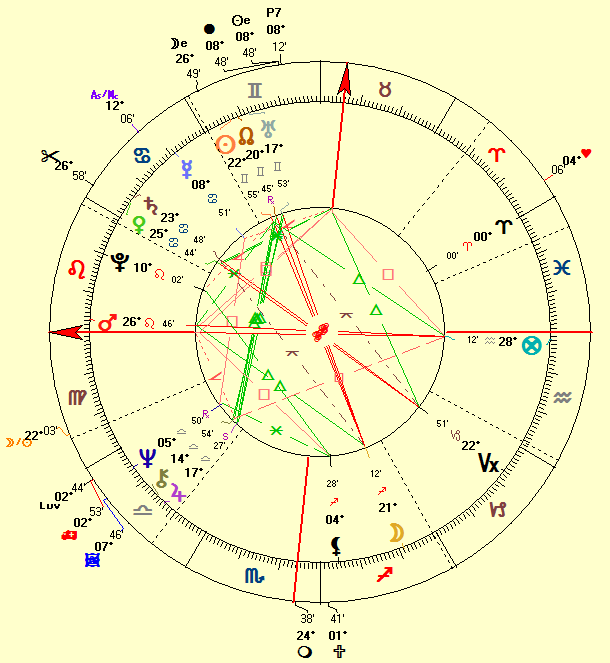 Planetary positions:
Sun: 22° Gemini | Moon: 21° Sagittarius | Mercury: 8° Cancer | Venus: 25° Cancer | Mars: 26° Leo | Jupiter: 17° Libra | Saturn: 23° Cancer | Uranus: 17° Gemini | Neptune: 5° Libra | Pluto: 10° Leo | North Node: 20° Gemini | Ascendant: 29° Leo | MC: 24° Taurus
Standouts in the horoscope of Donald Trump
As usual we look at the standouts in the natal chart.
After all, that's what will bring us to the essence and disposition of a person.
Not to overwhelm you with information, we will only assess the horoscope of Donald Trump by looking at the factors that only have some meaning for his love life.
In the horoscope of Donald Trump we can find the following standouts:
Most planets and points are posited in fire signs
Most planets are posited in the eastern hemisphere
there is a powerful Sun-Pluto connection (the Sun is semi-square and parallel Pluto; Pluto is in Leo, ruled by the Sun)
there is a powerful Moon-Venus connection (the Moon is inconjunct and contra-parallel Venus; Venus is in Cancer, ruled by the Moon)
there is a powerful Saturn-Uranus connection (the ruler of the 10th house, mundane ruled by Saturn, is in the 11th house, mundane ruled by Uranus; Uranus is in the 10th house, mundane ruled by Saturn; Saturn is in the 11th house, mundane ruled by Uranus; SA = AS/UR).
Donald Trump is born under a Full Moon with the Sun conjunct the North Node and the Moon opposite the North Node
in the 45° dial/list there are the following exact midpoints:
* AS = SA/NE
* MC = SO/VE
* MA = JU/NE
* SA = MA/KN
* UR = AS/NE = ME/MA = VE/PL
* NE = SA/UR
* PL = MC/VE
* KN = MC/JU 
His predominant fire element suggests a flamboyant and lively nature, the more so because his Ascendant is in the fire sign Leo as well.
Fire signs are enthusiastic and showy (especially Leo).
On our sign compatibility page, we already mentioned that predominant fire signs make themselves visible, noticeable.
You not only hear them, but you will see them physically too because they just love to 'show up' and make some 'drama' and noise.
Planets in the eastern hemisphere of the horoscope wheel indicate a self-reliant person who is very much interested in our society due to the strong 4th Quadrant (houses 10, 11 and 12).
He's not a family man and his life revolves around society or a community.
The powerful Sun-Pluto connection, analogy or affiliation represents compulsive-obsessive drives.
There are huge power issues and he may be quite forceful - for good or ill.
The powerful Moon-Venus connection loves harmony and beauty.
It's a rather naive connection also suggesting Donald Trump tends to take life easy.
The very powerful Saturn-Uranus connection is also called the configuration of the 'split personality.'
This connection even reinforces his mutable Full Moon with the Lights posited in double signs (a split personality).
The advantage is that he has the ability to blend contradictory points of view but on the other hand, it's still a very divided connection, so that he really needs to be clear about his own points of view.
He should avoid 'double-speak' and try to learn to have a vision on his own.
Any Saturn-Uranus connection brings tension and stress in the life of the native also.
It often points to a blocked revolution (not being able or not being allowed to change everything fully all at once).
The Full Moon in double signs is a very idealistic one.
He's able to focus his desires on one single object and pursue that object with full force and passion.
In matters of love, this Full Moon phase is not able to settle down easily though.
It's also related to huge sexual forces, new powers, new temptations...
He also has to learn to manage and master the opposites that manifest within his own personality.
In Sagittarius, this Full Moon struggles between reform and tradition (confirmed by the powerful Saturn-Uranus connection), between the beliefs/concepts and the more rational parts and he may often choose the most emotionally appealing solution to problems (confirmed by his predominant fire traits).
The Sun-North Node conjunction reinforces self-conscious behavior.
Donald Trump is able to personally push through.
The Moon opposite the North Node of the Moon on the other hand points to the wrong connections with some people.
He may have tons of encounters and meetings but he often has the wrong ones that rather block his progress.
This makes for vacillating and/or short-lived contacts with numerous people.
The very close midpoints in the 45° dial can be delineated as follows:
AS = SA/NE: to be or to feel confined, to feel 'out of the group', to live or work in a depressed and/or dark/somber environment

MC = SO/VE: to love art and/or beauty

MA = JU/NE: strong idealism, not knowing what to do, to go for high ideals, wasted energy, futile activities

SA = MA/KN: to withdraw, to be or feel blocked, to face set-backs

UR = AS/NE = ME/MA = VE/PL: to hope, to separate and/or leave because of damage or disadvantages, to lose self-control, rash judgments, to have a loud voice, to take impulsive decisions, strong love impulses, irresistible love at first sight

NE = SA/UR: breakdown under emotional pressure, to feel lost, to feel sad, to give up

PL = MC/VE: the emotional expression, to be charming, to have charisma

KN = MC/JU: enthusiastic with others, successful connections
---
The 2005 marriage horoscope of Donald Trump
Donald Trump married three times:
to Ivana Zelnickova on April 9, 1977. The couple divorced on March 22, 1992.

to Marla Maples on December 19, 1993. The couple divorced on June 8, 1999.

to Melania Knauss on January 22, 2005 in Bethesda, Palm Beach, Florida/USA around 19:00 (07:00pm) in a most expensive 30 minutes society wedding.
Let's take a look at his current marriage to Melania Knauss.
The marriage horoscope below is calculated for 19:00, the estimated time of the marriage.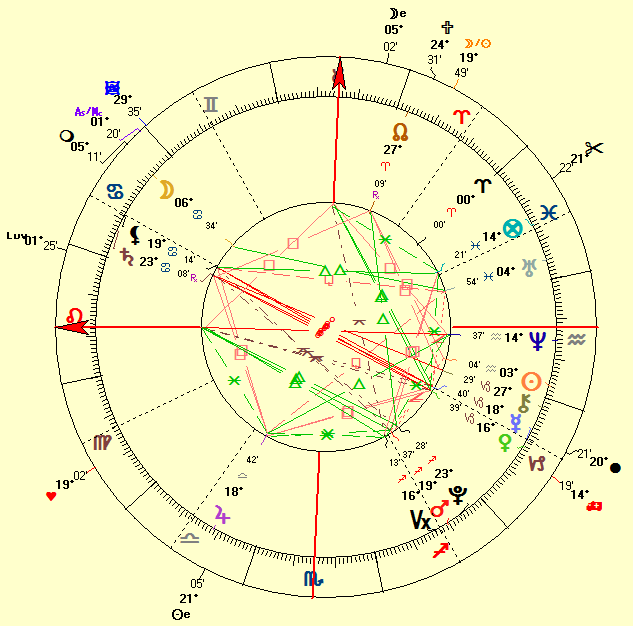 Planetary positions:
Sun: 3° Aquarius | Moon: 6° Cancer | Mercury: 18° Capricorn | Venus: 16° Capricorn | Mars: 19° Sagittarius | Jupiter: 18° Libra | Saturn: 23° Cancer | Uranus: 4° Pisces | Neptune: 14° Aquarius | Pluto: 23° Sagittarius | North Node: 27° Aries | Ascendant: possibly in Leo | MC: possibly in Taurus
And again, we will only look at what stands out on that very moment even though there are not a lot of configurations jumping out.
There is one exact midpoint noticeable in the 45° dial: UR = VE/SA = SO/MO.

This is a very disruptive and turbulent planetary picture that we rather don't want to have in a wedding horoscope.
It increases the likelihood of separation and divorce.
There also is a tight Saturn-Pluto inconjunct (both bodies being at the same numerical degree as well).
This Saturn-Pluto inconjunct is not that important because it's a generational aspect but it may have some relevance if we take the house rulerships into account.
Pluto may rule the 4th house while Saturn may rule the 6th house (if the time of the wedding is approx. accurate).
In this case, there may be some issues between the family and home life and work.

Both life domains are not really compatible and this may bring about some frustration.
Most Saturn-Pluto aspects can be very rigid, tenacious, stubborn and fixed though (most often because of jealousy and/or control issues).
The other tight aspect is the square between Mercury and Jupiter.
Expansive Jupiter often exaggerates and with Mercury there can be misjudgments.
There are big expectations but also some disappointments to take into account.
Generally, this is not too bad an aspect and often it involves big expenses and purchases.
---
Astrodamus predictions for Donald Trump
When we, at Cosmic Technologies (CosmiTec), analyze horoscopes, we often consult Astrodamus 1.0™ to know what the future may hold for the native...
Click here to download his Astrodamus predictions till 2050.
---
Updates
Update January 20, 2017: Donald Trump was sworn in as the 45th president of the United States on January 20, 2017 at 12:01pm in Washington DC.
---
---