Print This Page
Order Here
Your

Free

Lunar Cycle
Fertility Overview (Calendar)

On this page we direct you to Astrodienst's web site that will provide your absolutely free Lunar Cycle Fertility Overview (Calendar).

On our lunar cycle fertility page we discussed the relationship between the lunar cycle (Moon phase) and fertility.

We also mentioned how it's possible to determine the sex of your future child.

Through Astrodienst's web site, you can instantly order your own personal Lunar Cycle Fertility Overview or Calendar according to the lunar cycle fertility methods researched by Dr. Jonas.

No need to wait for the results!

For your convenience, we list all the steps and include a screen shot of the pages so that you can follow the directions properly.


Check out Astrodienst's web site at www.astro.com (see image below)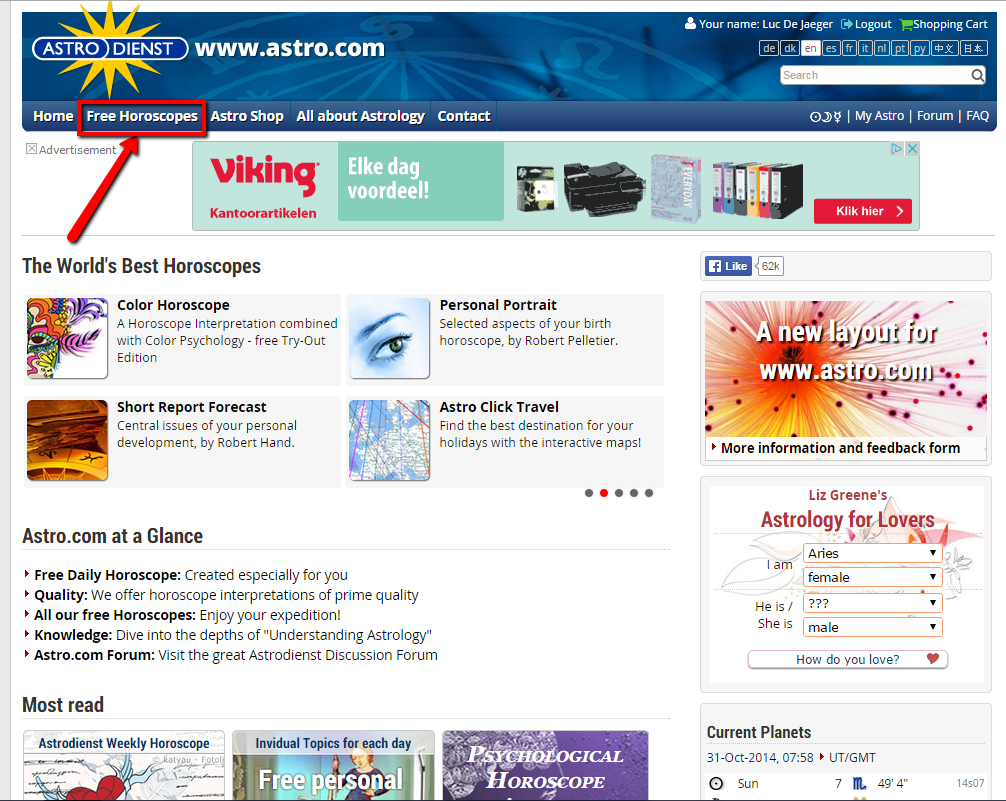 In the top navigation bar, you will see "Free Horoscopes." Click that link/button (see image above).
Then select "Extended Chart Selection" (see image below).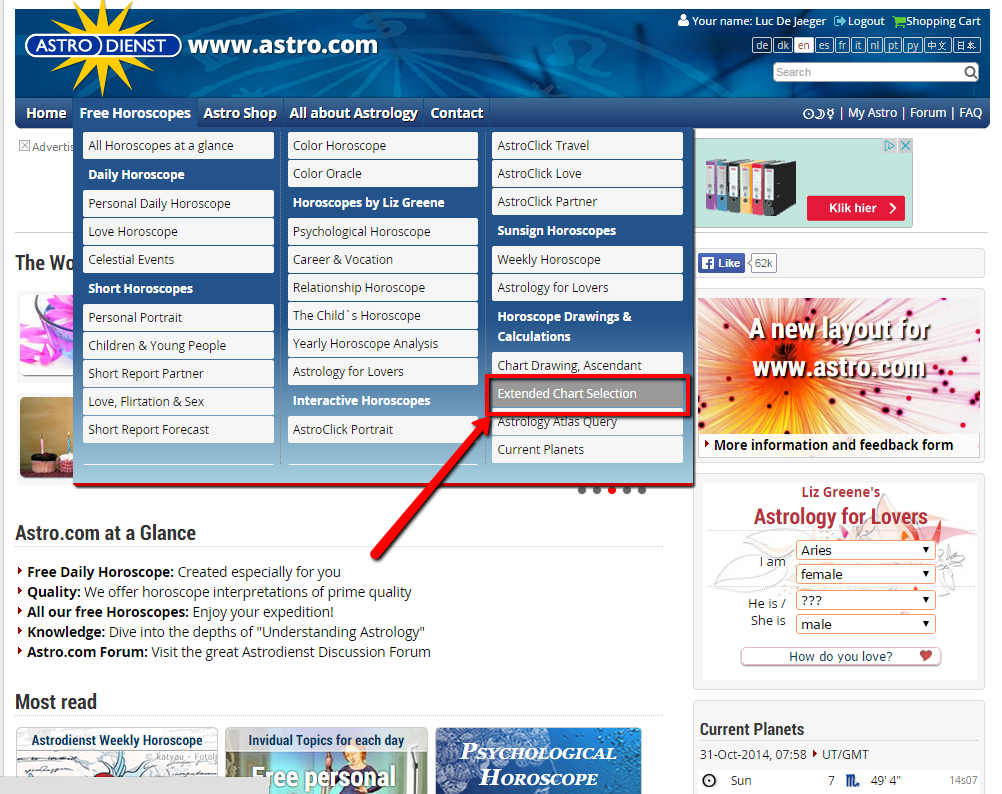 Login if you already have an account OR add a profile with your exact birth information and follow the directions on the screen to enter the details.
Then, change the circular chart default setting to 'special charts' (see images below).
The 'Special charts' setting will now be in red.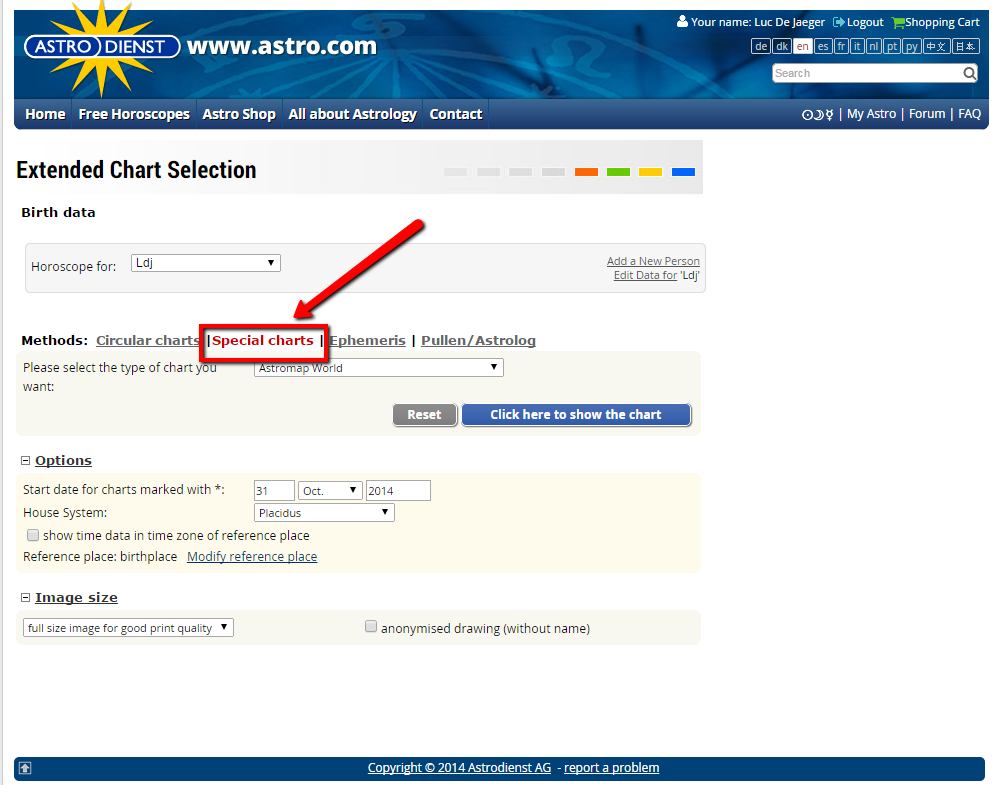 Now, select the special chart you want, and we want the Lunar Phases Fertility Calendar, so scroll down -- it's the last option -- and select that option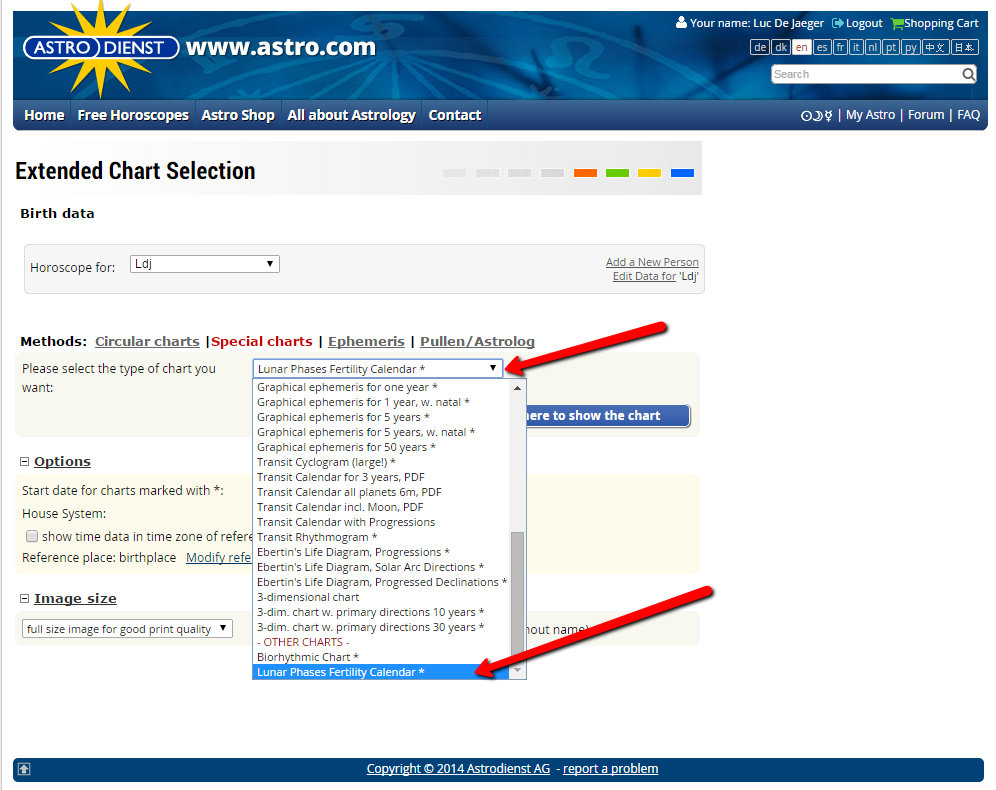 Make sure the start date is OK otherwise, enter a correct start date (see image below).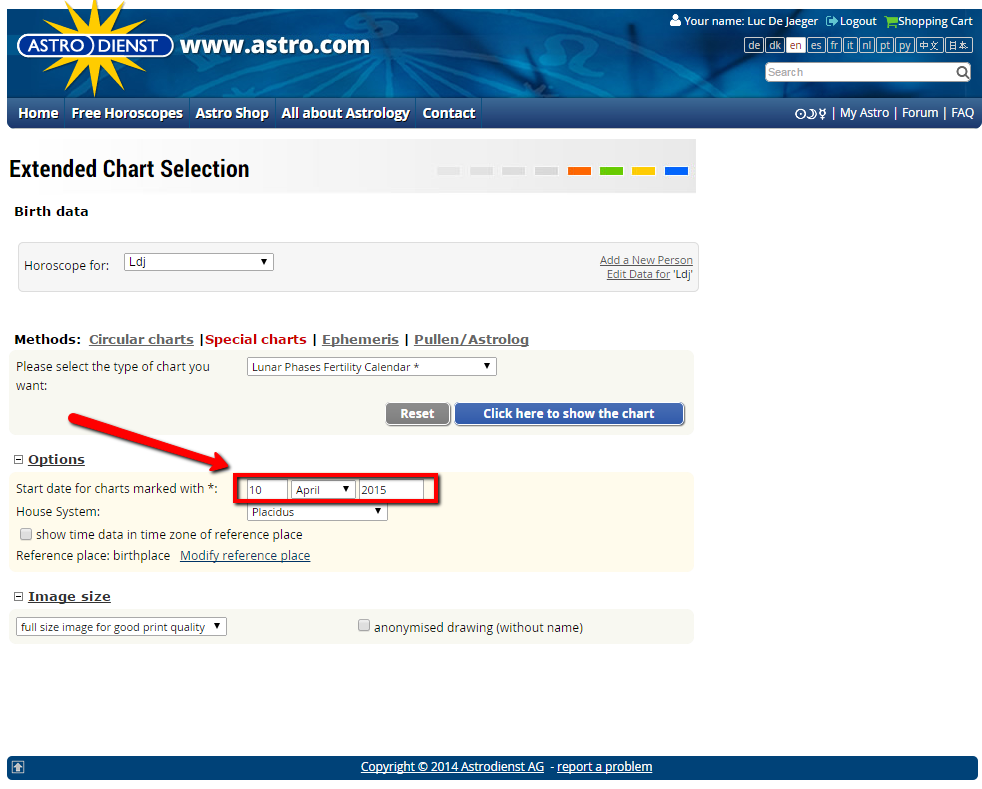 If the start date is OK, then click the blue "show the chart button"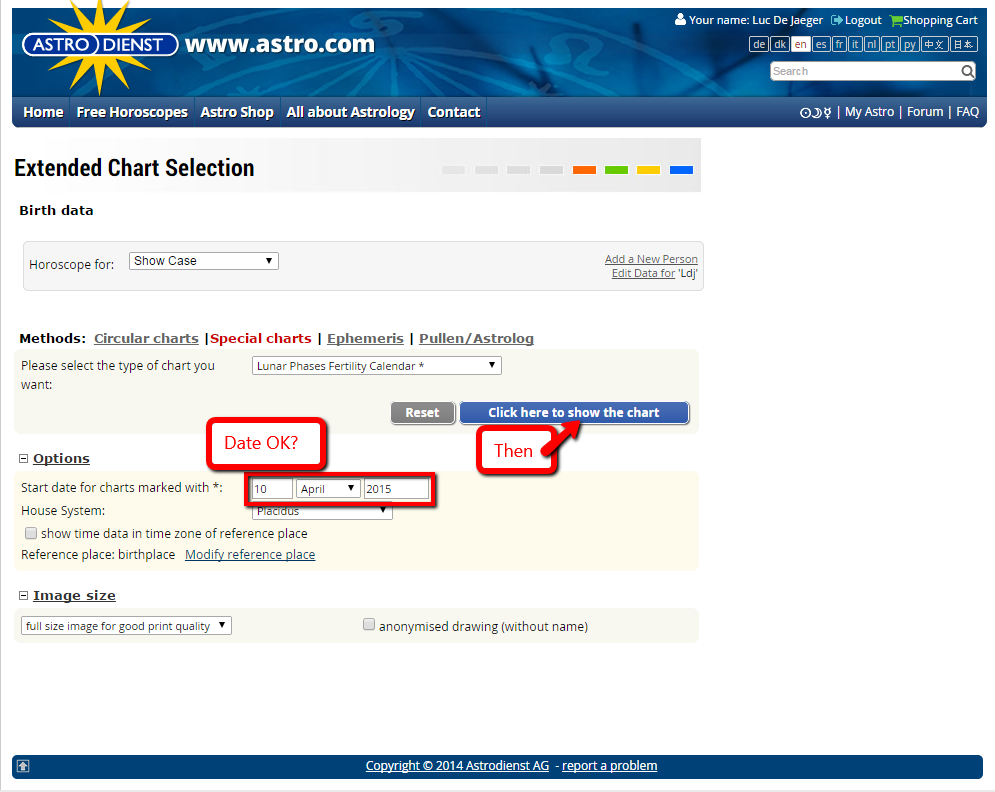 And here is your free Lunar Phase Fertility Calendar (see image below)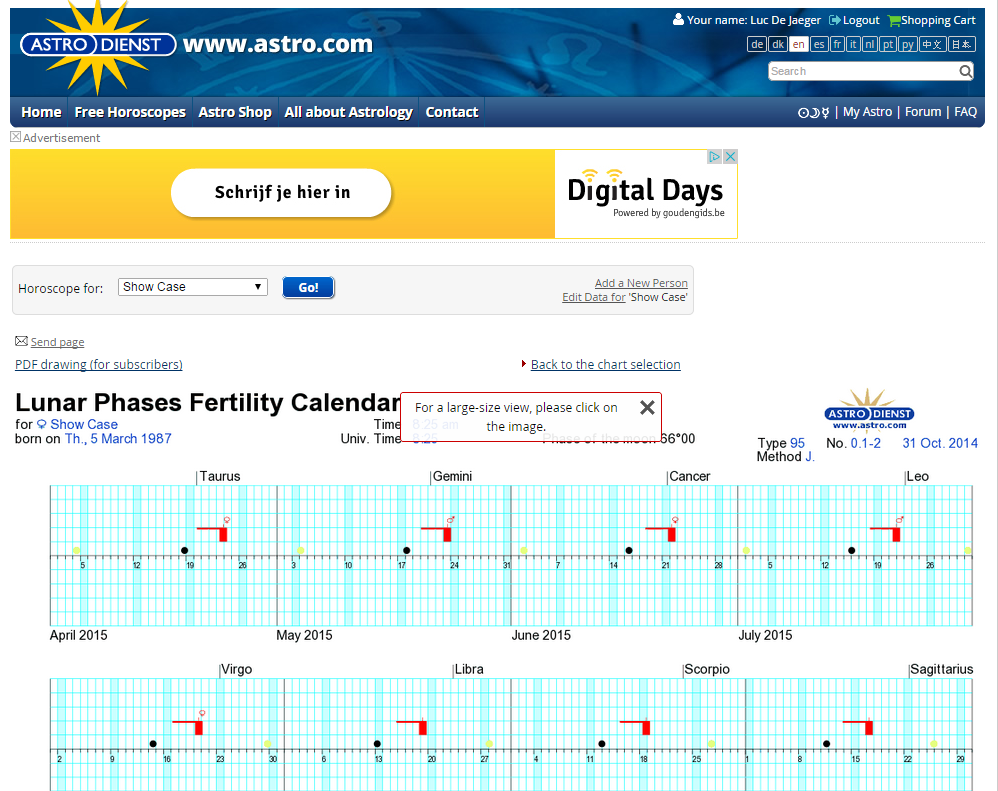 It also shows the girl and boy days valid for each month (see image below)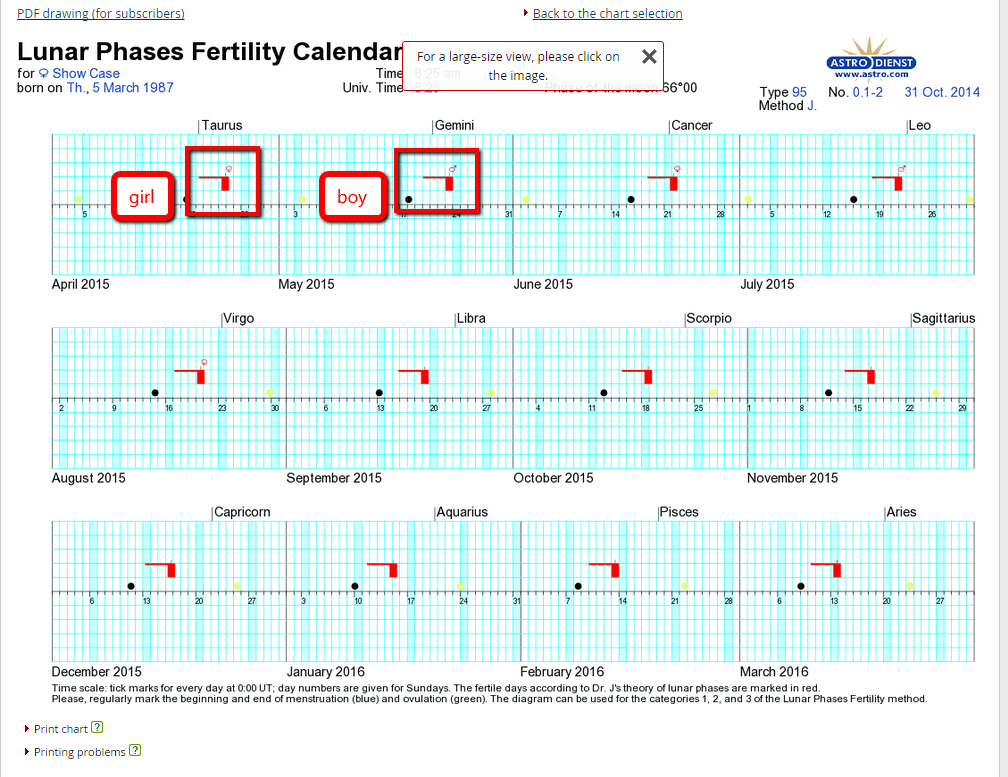 The small vertical red rectangle marks your personal Moon phase return.
The horizontal red line, preceding your personal Moon phase return, marks your most fertile days.
The symbol of the gender (boy or girl) can be found above the red line.
The black dots on the calendar mark the New Moons.
The yellow dots mark the Full Moons.
---
If you want to prevent pregnancy naturally without subjecting your body to artificial methods, or if you want to maximize your chances of becoming pregnant, a fertility computer may be perfect for you.
Reportedly, the
Daysy - Fertility Monitor
is one of the most reliable fertility monitors on the market (accuracy rate of 99.3%).
The fertility monitoring algorithm in Daysy has been developed with feedback from millions of cycles and uses advanced statistical methods to calculate your fertility status.
Daysy's program relies on the Lady-Comp algorithm, which has a proven track record of over 28 years.
The
Lady-Comp Fertility Monitor (measurement in Fahrenheit)
or the
Lady-Comp Fertility Monitor (measurement in Celsius)
, also is a next-generation computer (actually, it's a small device) that determines your fertile days (based upon your morning temperature, taken orally), and shows when you are ovulating by recording, analyzing and storing your menstrual cycle data.
This device can be used for natural pregnancy control but also serves to achieve pregnancy.
The effectiveness of this fertility computer is told to be 99+%.
---