Print This Page
Compatti.com

(Now Discontinued!)
Compatti.com (discontinued since 2007) was launched on September 26, 2000.
Below we present the horoscope with the Sun on the Ascendant.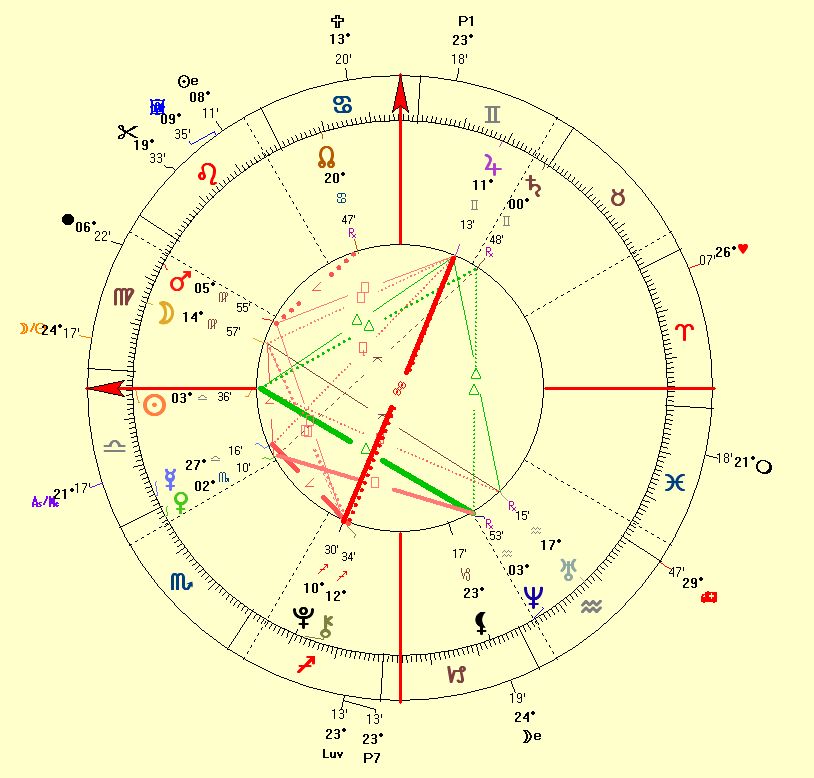 Planetary positions:
Sun: 4° Libra |Moon: 22° Virgo |Mercury: 27° Libra |Venus: 2° Scorpio |Mars: 6° Virgo |Jupiter: 11° Gemini |Saturn: 0° Gemini |Uranus: 17° Aquarius |Neptune: 3° Aquarius |Pluto: 10° Sagittarius |North Node: 20° Cancer
Corporation Chart of Compatti.com
The chart shows a beautiful Sun-Neptune trine denoting sound inspiration and intuition.
In fact there is more, in the launching chart: we can find a Grand Trine in Air Signs (between the Sun, Saturn and Neptune).
This Grand Trine denotes an idealistic and wisdom-gaining disposition. There is an eager intellect and there are a lot of rational faculties.
The Sun is posited at a degree associated with another World, a World beyond the Real World.
The Sun-Saturn-Neptune Grand Trine describes a materializing (Saturn) imagination (Neptune). There are realistic Visions.
The Moon is posited at a degree of insight and explanation, again pointing to another World and a broadening of the own World View.
The Moon is in her final (balsamic) phase, a period in which a lot of ideas and inspirations are conceived.
Compatti.com (discontinued since 2007) seems to have some knowledge (Air Grand Trine) that no other dating service has.
By using an astrology-based rating system, Compatti™ simply helps the participants evaluate whether there is sufficient potential for a relationship.
In our opinion, their advanced web technology and exclusive compatibility astrology evaluation methods made them one of the best (if not the best) and most serious astrological matchmaking services.
What will the future bring? (General trends)
In 2004, converse progressed Neptune crossed the 0° Aquarius - 29° Capricorn border making an exact trine to natal Saturn.
Dreams will more and more come true. Compatti.com (discontinued since 2007) may become more known.
In 2005, converse progressed Sun crossed the 0° Libra border denoting new encounters, new members and more recognition.
2006 marks a breakthrough: progressed Jupiter then makes a trine to natal Uranus and the progressed Sun then makes a sextile to natal Pluto.
These aspects denote power, sudden advancement and fortunate developments.
---