Print This Page
PerfectMatch
PerfectMatch was developed out of the need to address singles' concerns surrounding online dating.
It was built on years of experience by the former team responsible for developing and managing the original Kiss.com/uDate.com to over seven million members, leading up to the sale to InterActiveCorp (Match.com) in 2002.
There is some contradicting information regarding the foundation date: according to some sources Perfectmatch.com launched on August 13, 2003 while some other sources state it was on September 14, 2003.
Anyway, the dates are quite close and we took the former date of August 13.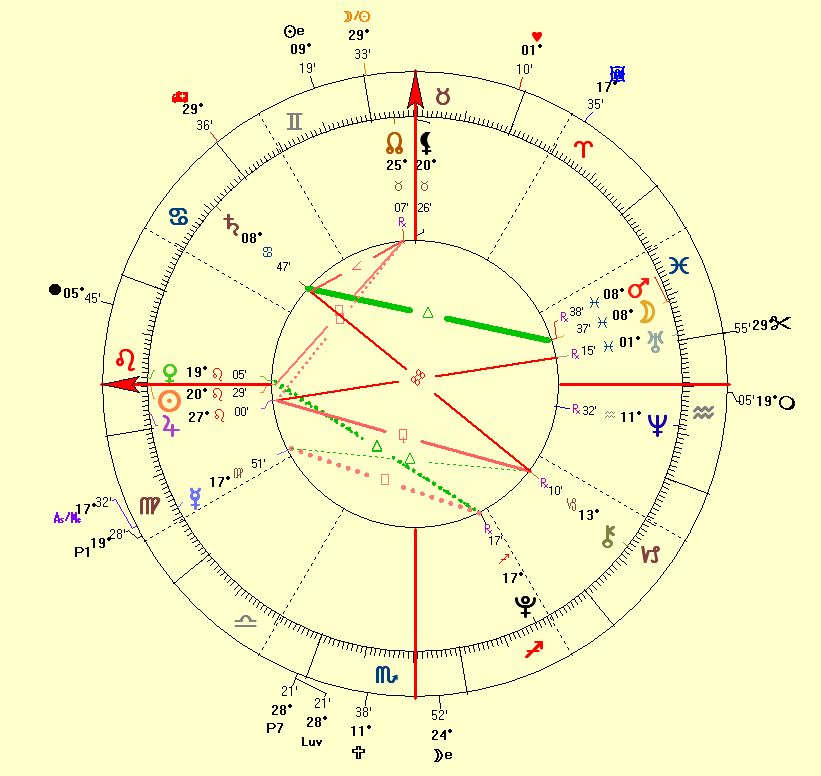 Planetary positions:
Sun: 20° Leo | Mercury: 17° Virgo | Venus: 19° Leo | Mars: 8° Pisces | Jupiter: 27° Leo | Saturn: 8° Cancer | Uranus: 1° Pisces | Neptune: 11° Aquarius | Pluto: 17° Sagittarius | North Node: 25° Taurus
Corporation Chart of PerfectMatch
Perfectmatch.com is the only relationship service to offer the Duet® Total Compatibility System (Duet®), co-developed by internationally renowned relationship authority, Pepper Schwartz, Ph.D.
Based on 30+ years of research, the Duet® analyzes each members Personality, Values and Ideals, Life and Lovestyle™ and Preferences to identify and find the right person for them.
It's a direct competitor of eHarmony.
Dr. Pepper Schwartz has written some important books:
Over the past fifteen months, Perfectmatch.com, starring Diane Lane and John Cusack, was featured on a one hour Dr. Phil show and was the exclusive online partner during an intensive two week search for love for a producer of Live! With Regis and Kelly Show!
In the corporation chart of Perfectmatch.com we find a powerful and successful Sun/Venus trine Pluto configuration in fire signs.
This combination clearly brings financial success.
Also, Mars trines Saturn in water signs.
Unfortunately, we cannot say much good about this trine as Saturn is in Cancer, the sign of its detriment and Mars and Saturn don't cope quite well together.
Mars and Saturn represent opposing factors: Mars represents initiating forces while Saturn represents limiting forces.
Moreover, the fire planet Mars is retrograde in Pisces, a water sign, and does not feel all too well here.
Mars is very linear in its working and Pisces is very unlinear and unfocussed, causing Mars to drift away from its original goals.
What will the future bring? (General trends)
When Saturn will transit Virgo in the middle 2007 we expect some stressful events because Saturn will oppose Uranus in the corporation chart of Perfectmatch.com.
Transiting Neptune will square the Moon's Node as well.
Restructuring will be necessary, due to new technologies or methods that will be applied.
Later on, transiting Saturn will oppose Mars and sextile Saturn in the horoscope denoting hard work to reach the goals and coping with some barriers.
In 2008 the T-square between transiting Uranus and natal Mercury and Pluto indicates some innovative and advanced new methods that PerfectMatch will introduce.
The middle of 2008 might be another stressful period though.
2009 will bring some rebuilding and it's almost certain Perfectmatch.com will merge with another online dating service.
---