Print This Page
Learn How to Accurately
Predict Your (Love) Life
With Moon Phase Astrology!

Forecasting with the Moon Phases is nothing new to students of astrology.
Moon phase astrology is one of the oldest techniques that exist, especially in mundane astrology.
However, the Lunar Phases can be successfully used to predict events in natal astrology too.
Perhaps you too set up a New Moon chart and compare it with your natal chart if you want to know what the coming week(s) and month(s) might bring.
Isn't casting a New Moon horoscope and comparing it with your own horoscope time-consuming?
Didn't it occur to you that New Moon charts often fail too?
Can't see the wood for the trees?
Wouldn't you rather use a more simple Moon phase astrology method that is still accurate?
That's what Luc De Jaeger was looking for too: a more simple way to accurately predict future events with Moon phase astrology.
He makes available a method that can be used with an astonishing high accuracy rate.
In his Moon phase astrology system you don't even need to cast and delineate the horoscopes and chart wheels of the New Moon chart and Moon Phases anymore!
If you want to learn how to:
plan a Wedding date, a date of a first meeting,...
predict your (or anyone else's) best or worst days to accomplish what you want
take advantage of your best days and know when bad days are ahead
predict the outcome of sports events (interesting if you're into winning!), or any other every-day-event(s)...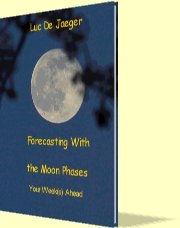 In this FREE e-book, Luc De Jaeger presents a Moon phase astrology system that gives brilliant results so that you will be able to accurately predict future events.
What are the basics of this system? Page 8
What are the layers (kind of a hierarchy) that is used in forecasting with the Moon Phases? Page 12
Is this method reliable? You bet, check the random examples beginning at page 13 from some celebrities and be stunned.
What are the benefits of this Moon phase astrology system?
it's VERY accurate
it's not too time-consuming
you can use it in natal as well as in mundane astrology
What other benefits brings "Forecasting with the Moon Phases"?
Take a look at the example on how to accurately predict the outcome of a Wedding date on page 18 and page 23.
Want to find a day to pop the question or to plan your first date?

Just check your most favorable days by following the step-by-step method outlined on page 8.
Is there a downside?
There is....
It's a very technical system or method because no astrology software program features a way to calculate the Moon phases discussed in the method yet.
So, you need to do some calculations yourself.
Though anyone can learn from the method, it's likely only people with some advanced knowledge of astrology may find it more useful.
In Forecasting With the Moon Phases you will find a most useful Moon phase astrology method that will astonish you in its accuracy!
"Forecasting with the Moon Phases" is totally FREE and can be downloaded in pdf-format just below.
So, you will need Adobe Reader to read the book. If you don't have Adobe Reader, click here to download the latest version of the Adobe Reader.
Click here to download the free e-book
---